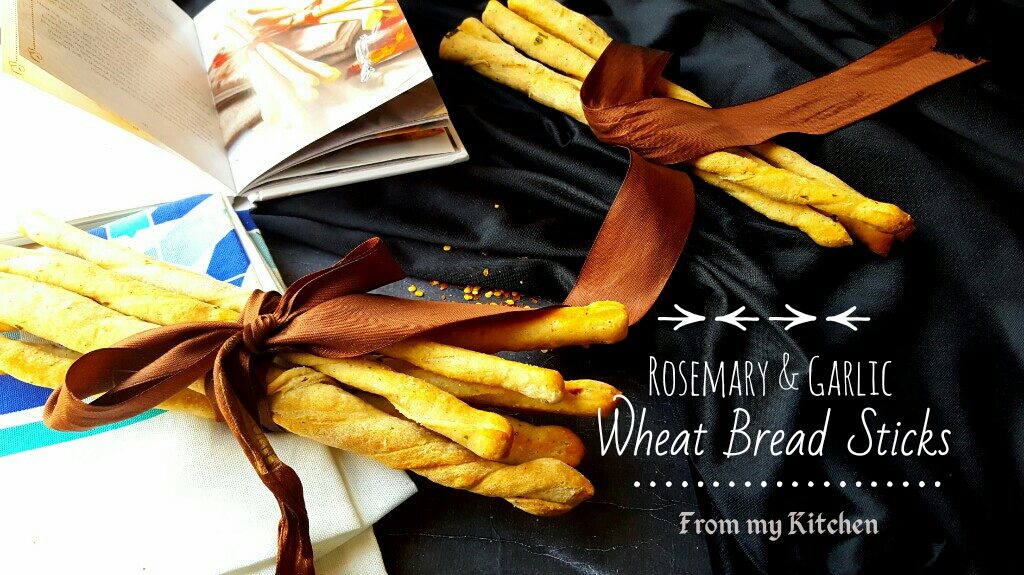 Who doesn't love to have well flavored and seasoned freshly baked sticks of bread?It's pure satisfaction when we bake breads from home!Isn't it?The bread baking is really what i love to do!This bread sticks are not at all blank in flavors.It has good flavor of garlic and rosemary along with a kick of chilly.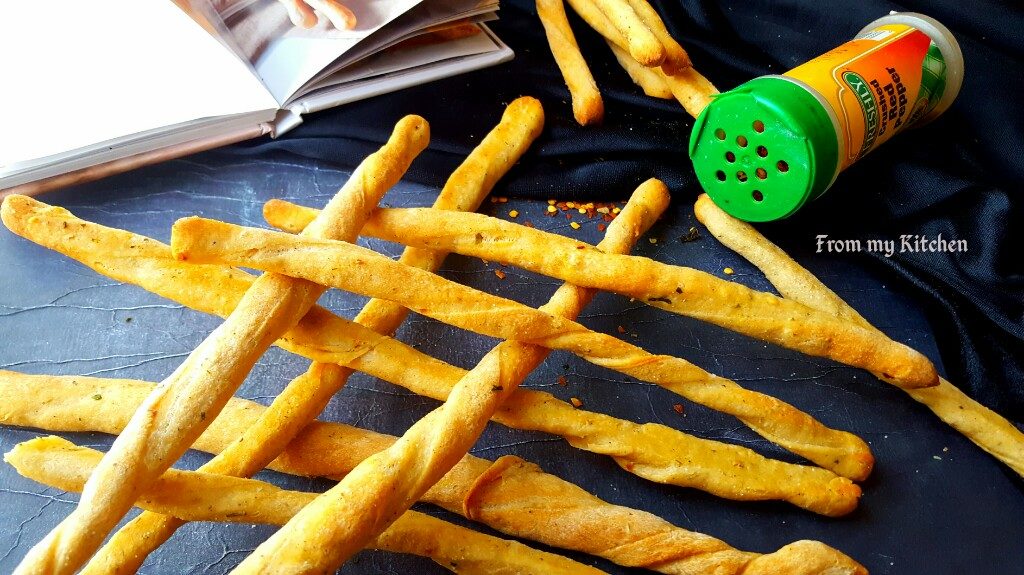 This is my first attempt with wheat in baking and it was really good.I always want to try with wheat but something stops me.(first of all my kashif doesn't like anything with wheat even chapathi)But this one i made for hubby who love to munch on such oil free snacks.Some maida is added.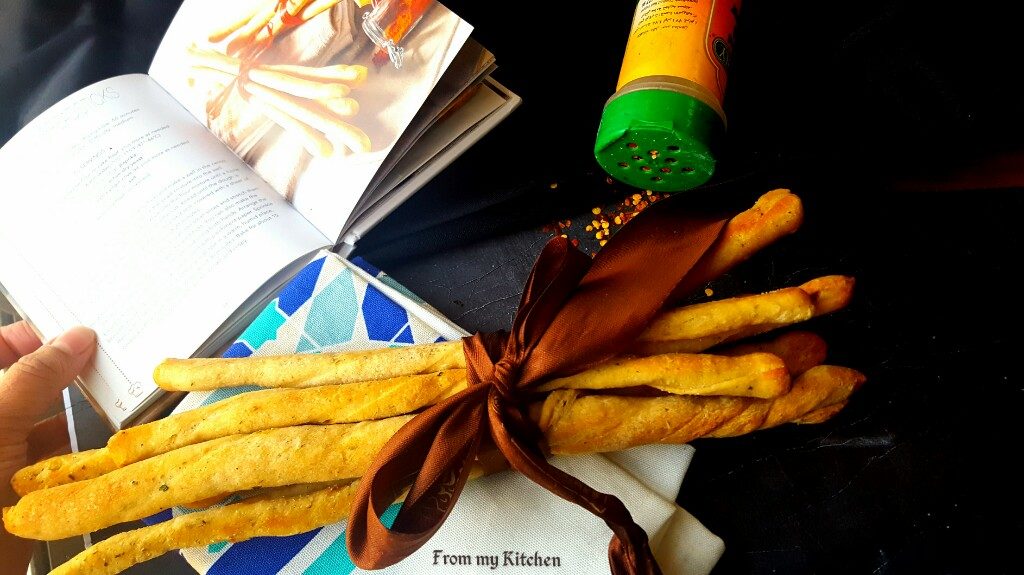 This is for sure a healthy option for snacking.An oil free and less amount of all purpose flour using here makes it a healthy snack.This will be a great option for the people who are dieting,to stop their cravings to munch on something crispy.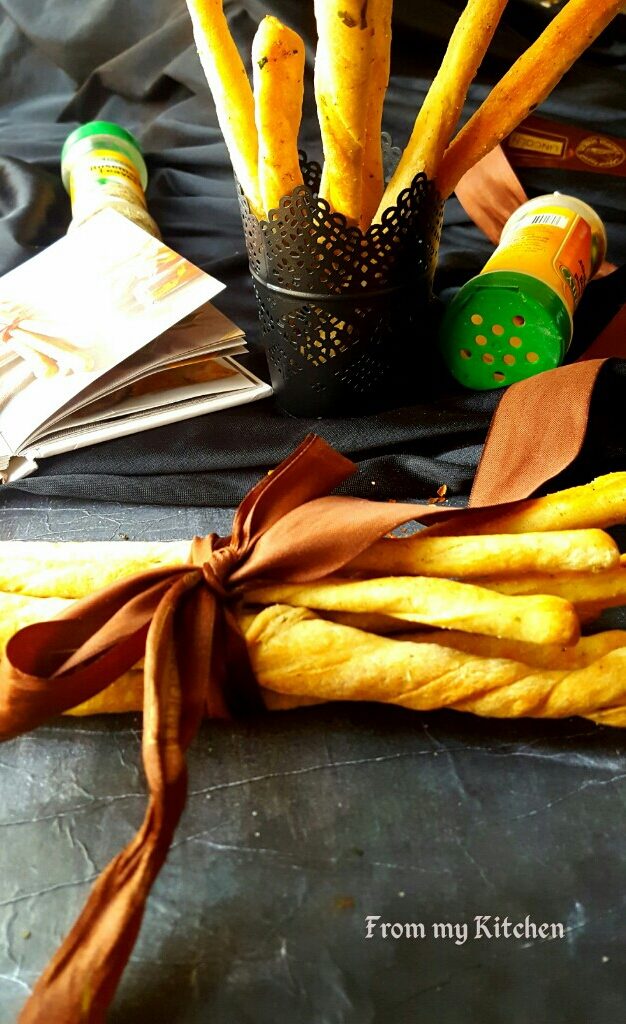 My younger one loved it.No surprise in that because he eat whatever that's crispy and crunchy!Hehe!But this one i'm so happy because it's a good option.This bread sticks is perfect to serve along with soups and pastas.
Ingredients
2 cups wheat flour
1 cup white flour
1 tsp sugar
Salt to taste
1 tsp pepper
1 tsp chilly flakes
1 tsp rosemary
Some garlic powder
3 tbsp olive oil
1 tbsp yeast
1 & 1/2 cup warm water(check and add)
For brushing
2 cloves crushed garlic
Some finely chopped cilantro
4 to 5 tbsp olive oil mix well
Some salt to sprinkle on top
Mix all these and keep aside
Method
Mix all the dry ingredients and olive oil in a large bowl and then start kneading the dough.Knead it to a soft and pliable dough for 8 to 10 minutes.I used approximately 1 to 1/2 cup(Don't add all at one go)
Let it rest in a warm place until its doubled in size.
Step by step instructions.
1.The doubled dough at first picture.
2.Roll it into a rectangular shape(not that thin just give it a shape)
3.Cut into thin strips
4.Do same with all
5.Cut from the center
6.Take each strip
7.Enlarge it with your hands
8.Arrange it to a prepared baking tray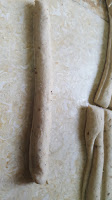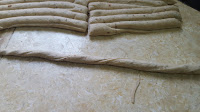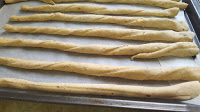 9.Cover it and Let it rest for 30 minutes.
10.Preheat the oven to 200 degree
11.Brush the sticks with garlic oil and sprinkle some salt bake it for 15 to 20 minutes.
Note:The twisted one was little soft in the center.If you want it crunchy don't twist it just roll and enlarge the sticks from both the sides.
The smooth dough like bun is must here, otherwise you will get a hard sticks that can be use as a stick!haha!
Don't bake it for long time.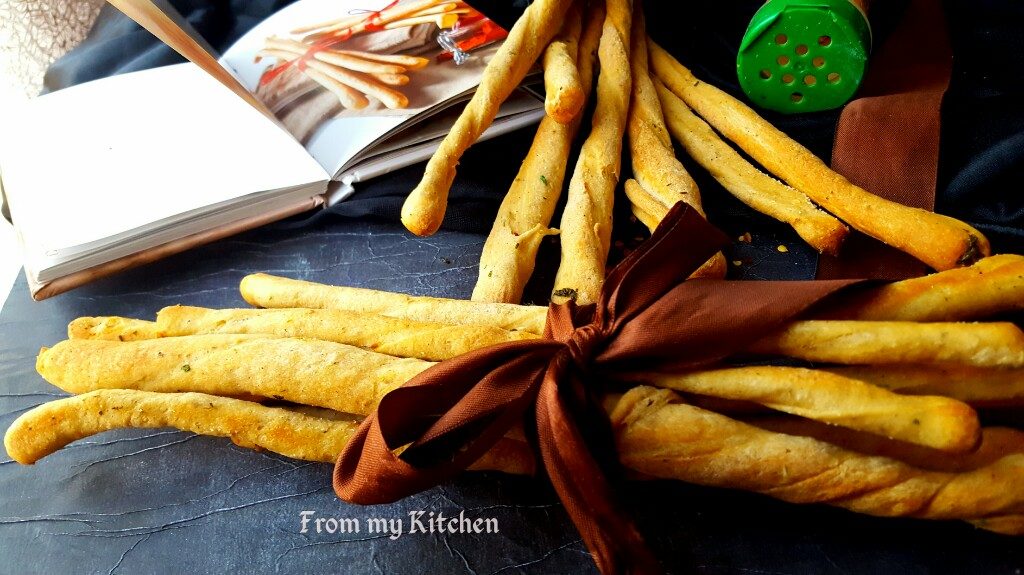 I hardly can find any difference in using wheat flour here.It was crispy with all those garlicky flavor and spicy too!