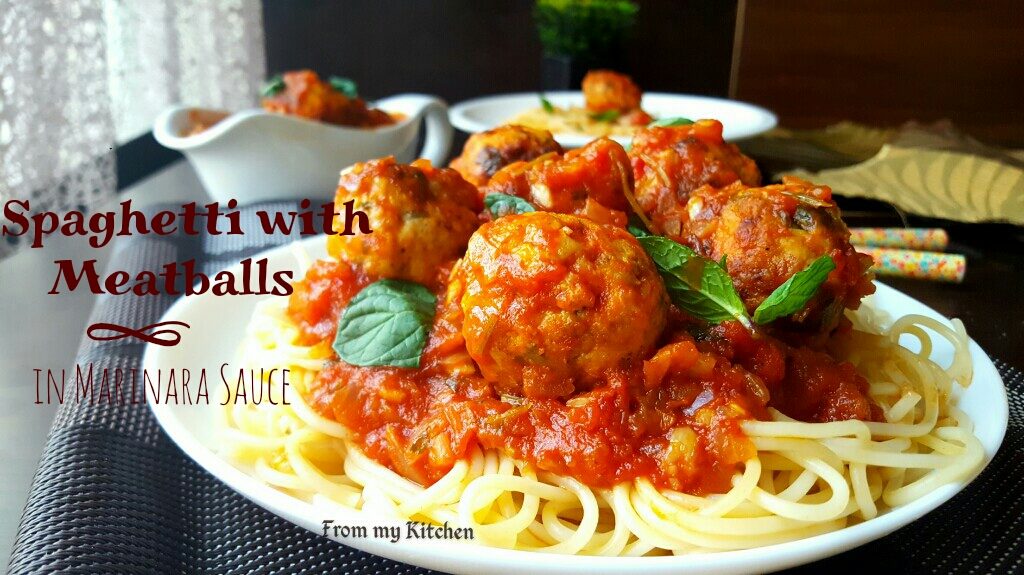 Today i'm here with Classic Italian Dish!"Spaghetti and meatballs" was in my bucket list for long time. At last here it is the beautiful looking and delicious tasting spaghetti with meatballs in tangy delish marinara sauce.Marinara sauce is nothing but a tomato based sauce that goes pretty well with all Italian dishes like pastas ,lasagnas and many more.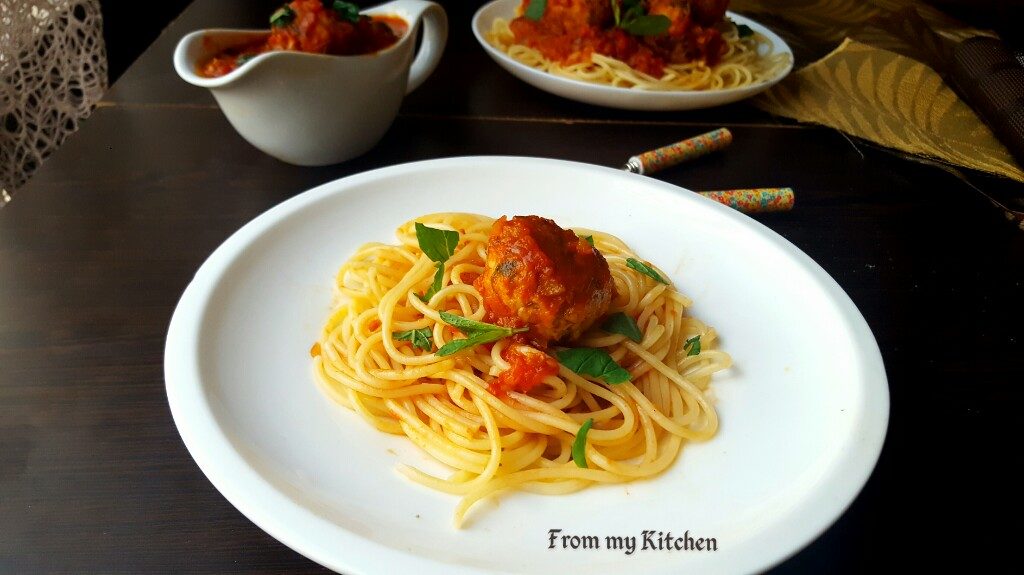 Truly delicious!No other pastas looks classy than these beauties!isn't it?I really adore it's look and now the taste too!Just loved the flavors from the sauce and the meatballs with spaghetti.The combo was incredible.I was wondering why i delayed to this extend for trying these yumminess.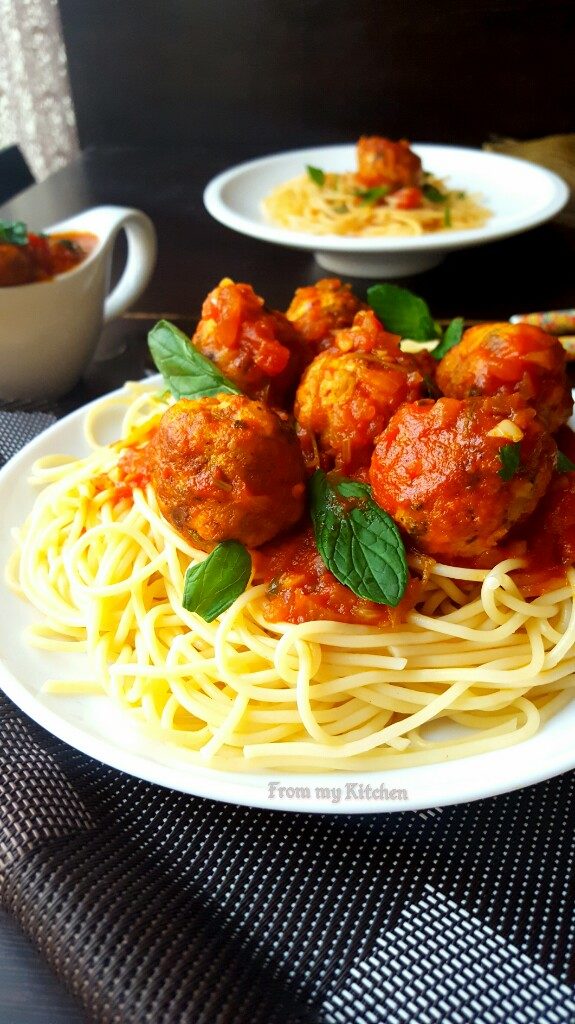 I mixed the sauce and meatballs before serving and served the rest of the sauce in a bowl,so we can use it accordingly.I used canned tomatoes with juice here to make the sauce.But you can also make it by using fresh tomatoes .If you are using fresh tomatoes see the notes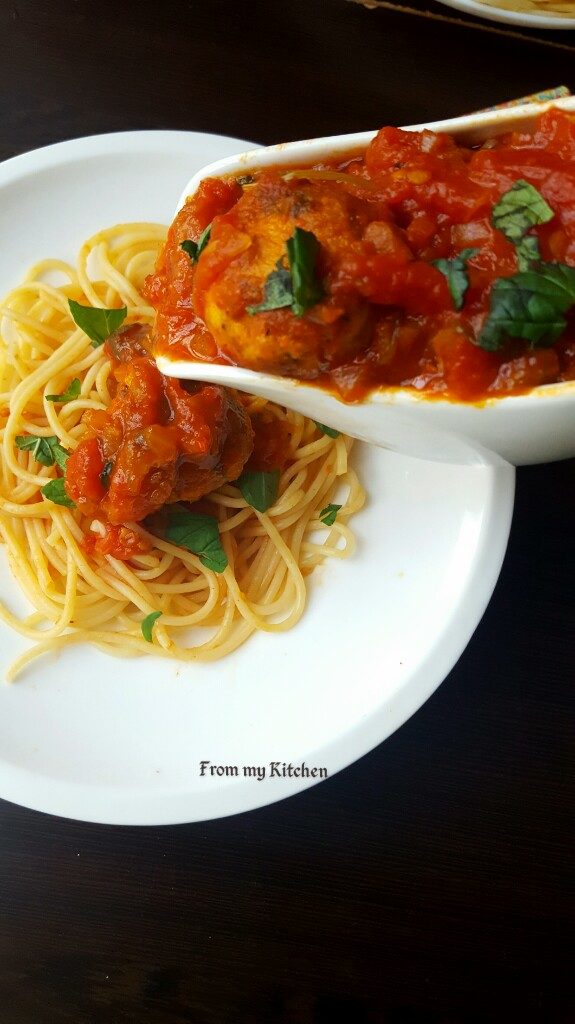 Here i used the chicken breast fillet and the grind it to make a fine paste for the mince.You can use the chicken mince too.Over to the reciep!
Ingredients
For Meatballs
2 chicken breast fillet grind to mince
1 small onion
A handful of finely chopped parsley
4 cloves garlic crushed
1 tsp oregano
1 tsp chilly flakes
1/2 tsp pepper powder
1/2 tsp paprika
1 small egg
1/2 to 3/4 cup bread crumbs
Salt to taste
Some drizzle of olive oil to brown the meatballs
For Sauce
8 cloves garlic
1 tsp chilly flakes(add more or less as per your taste)
1 large onion finely chopped
600 gram canned tomato
3 to 4 tbsp tomato paste
1 cup water
Oregano
Italian seasoning
1/2 tsp sugar
1/2 to 1 tsp pepper powder
Salt to taste
8 leaves of basil
Lots of parsley
Parmesan to put on top(i forget to add that)
Olive oil 2 tbsp
250 gm Spaghetti cooked as per instruction.
Method
To make the meatballs
Combine all the ingredients listed under the meatballs in a large bowl.
Mix it all well with your hands until well incorporated.
Make equal size of balls out of it and keep it aside.
In a large skillet or pan heat olive oil on medium-high heat.add meatballs and let them brown through all the sides.Let it cook for 5 to 8 minutes.(rest will cook in the sauce)Take it out and keep it aside
For Sauce
In the same pan drizzle some more olive oil,
Add in garlics and chilly flakes.when it started to change the color add finely chopped onion and salt.Cook it until translucent.
Pour in the canned tomatoes,tomato paste and mix well.Add 3/4 cup water and cook it for 5 minutes.
Add all the seasonings,sugar.parsley and some basil.mix well
Add the meatballs and some more water only if needed.Cover and cook until the meatballs are fully done and the sauce thickens.
If you want to look it fancy serve the sauce on top of the pasta,garnish with some basil and grated Parmesan and relish it!I mixed the sauce and pasta and then served.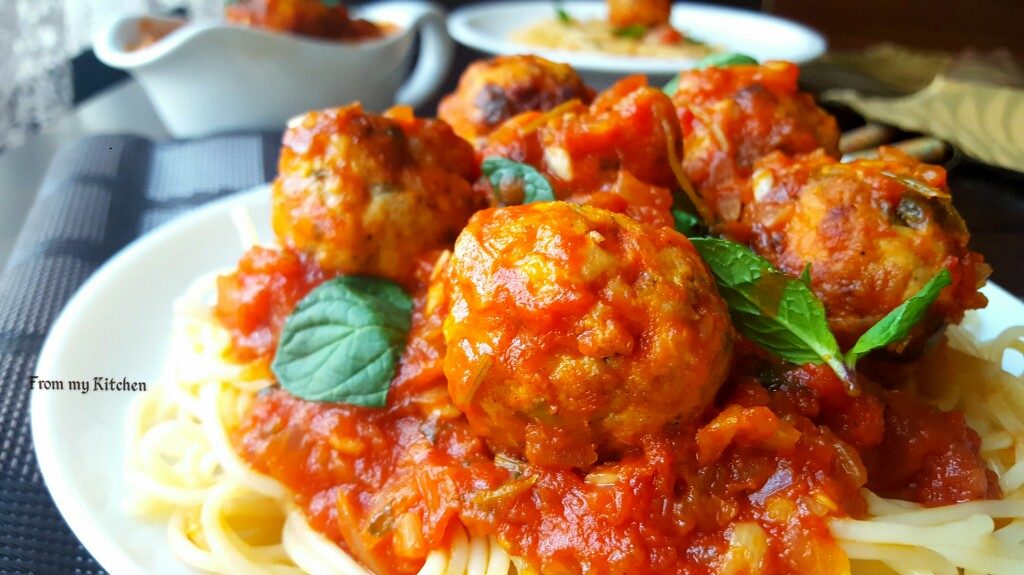 Notes : If you are using fresh tomatoes use 6 to 8 of them.Cook like i mentioned above(i mean same steps,instead of adding canned tomato add chopped tomatoes,tomato paste and some water let it cook completely until the rawness of tomatoes are gone)Now puree it and then add seasonings,meatballs and all other ingredients.Or else puree the tomatoes and add.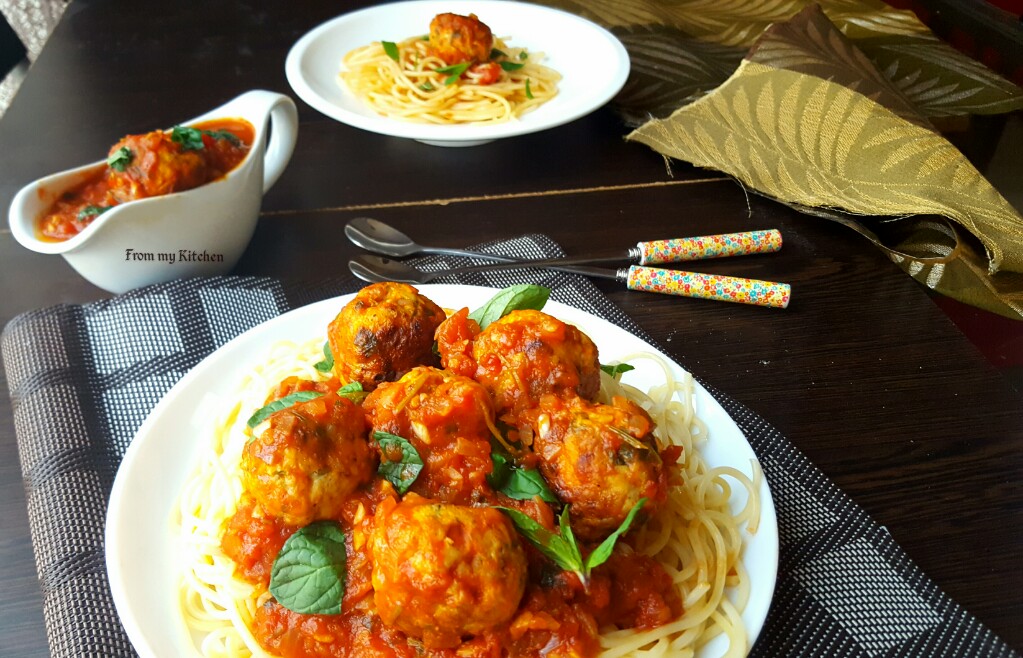 If you are planning to make this do try it out for sure.It's really delicious!Oh that taste of meatballs and the sauce was so appealing!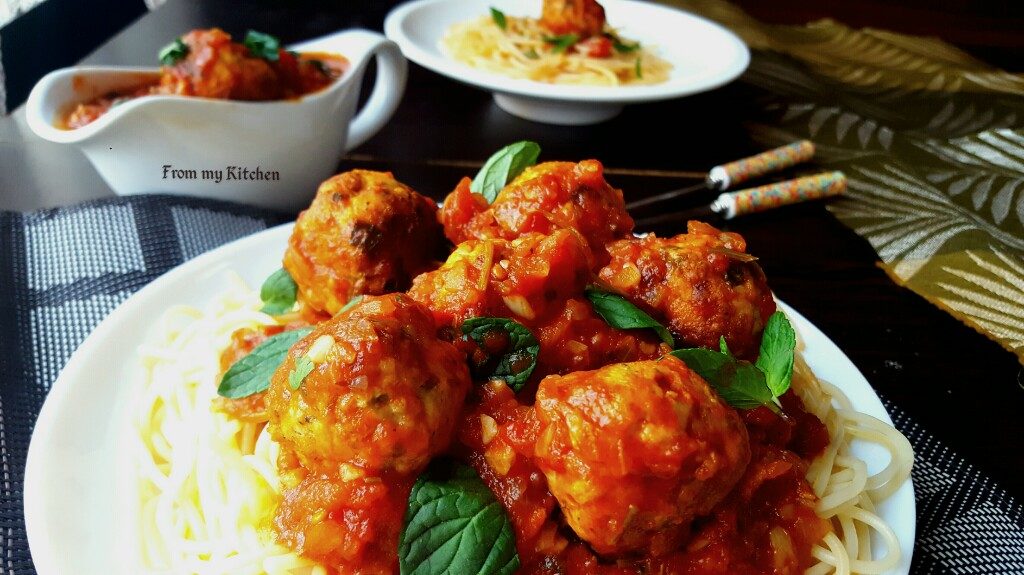 Hope you guys will enjoy it like we did.