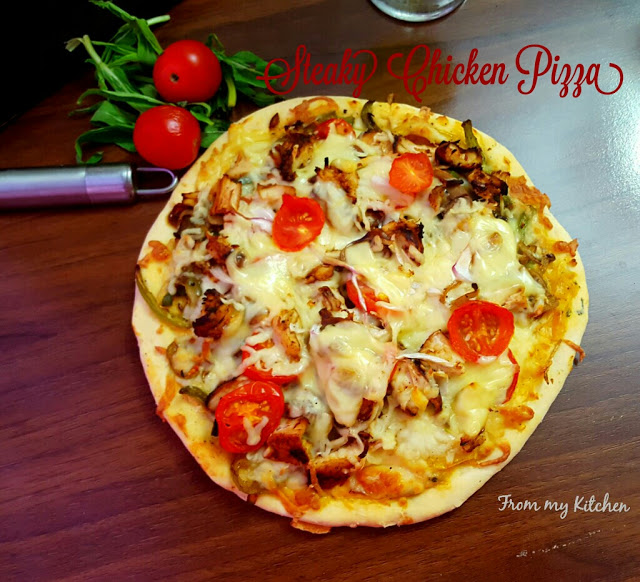 Pizza Pizza Pizza!This is what here my son used to sing while making pizza!hehe!This one is totally different in flavors,filling and the chicken steak take it to a different stage.Simple yet luscious,cheesy and steaky!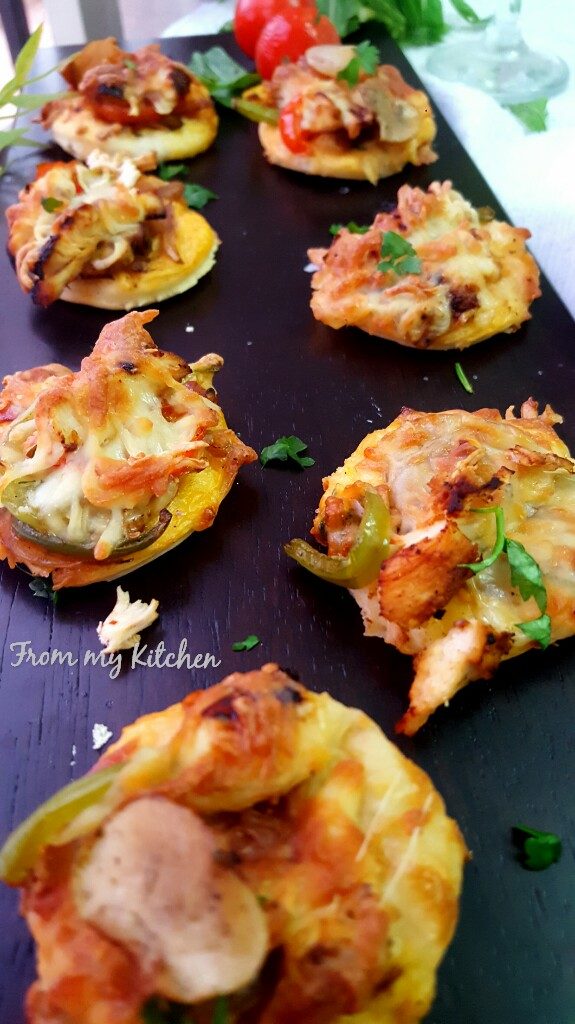 This one is so cute and perfect for tea time snacking.Especially for kids to munch on these tiny cheesy pizza.Here the sauce is also not a tomato based one.Usually steaks are served with silky rich cheese sauce or bechamel. So here the sauce is a thick cheese sauce.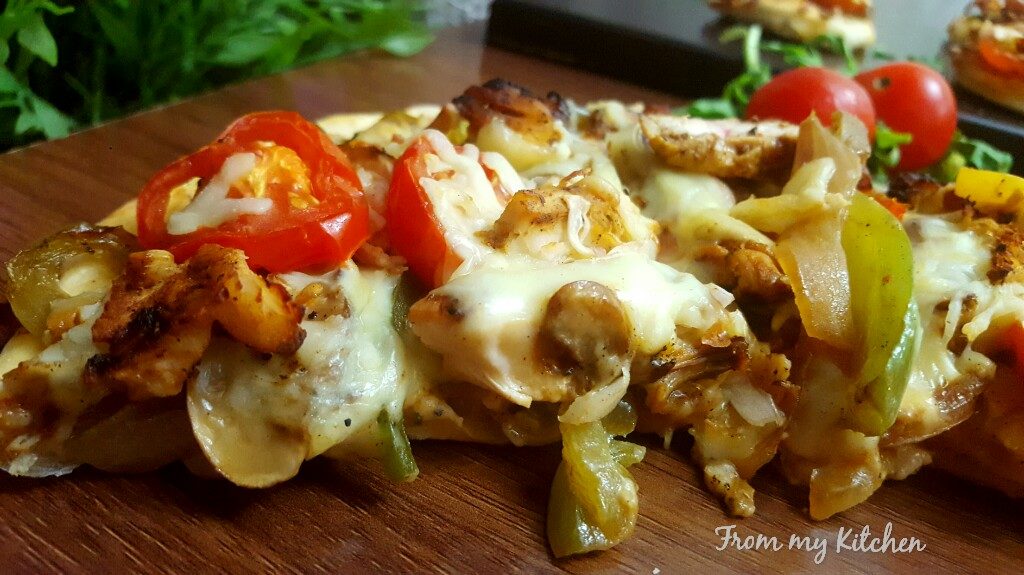 The chicken is well marinated with a steak marination and grilled it to a perfection,and then the veggies sorted in the same grill pan with some seasonings and then the assembling!Believe me you have to try it!Its yum yum yumm!!With a flavor blast from cheese sauce,the veggies sauted in the chicken drippings so nothing can go wrong here!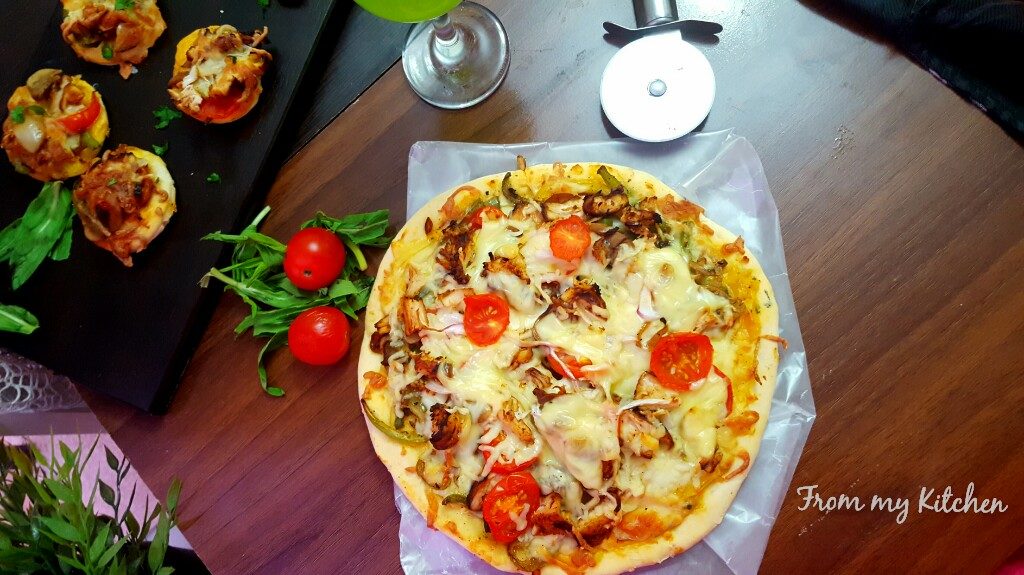 We enjoyed it!Over to the recipe
Ingredients
Pizza dough
2 cups all purpose flour
Salt to taste
1 tsp sugar
1 tbsp yeast
3/4 cup warm milk
1/4 to 1/2 cup water
4 tbsp olive oil/oil
Extra flour for kneading and dusting
Cheese Sauce
2 tbsp butter
2 tbsp flour
2 cups milk
1 tsp tomato paste(optl
Salt to taste
1/2 tsp each Pepper and chilly flakes
A handful of parmesan cheese or any cheese of your choice
Chicken
2 chicken breast fillet
1 tbsp soya sauce
1 tbsp hot chilly sauce
1 tsp garlic paste
1/2 tsp mustard paste
1/2 tsp honey
salt to taste
1 tsp paprika /chilly powder
Some Italian seasoning
1 tsp lemon juice
For topping
1 big Onion
1 medium Bell pepper
Some mushrooms
Cherry tomato/tomato
1 tsp oil
chilly flakes
Oregano
Italian seasoning
Lots of mozzarella cheese
Method
Knead pizza dough very well. If its sticky add some flour and knead it until you get a smooth and soft dough.(for 8 to 10 minutes)and let it rest for 2 hours for proofing in a warm place.
For Sauce-In a pan melt butter add flour and mix well then pour milk little by little and stir continuously to prevent from forming lumps.If you are adding tomato paste add at this stage. Combine everything very well.Add salt pepper and cheese, mix vigorously until it melts and you get a thick sauce. Switch of the flame.Let it cool completely.
Chicken-Marinate chicken for at least 1/2 an hour and then grill it with a tbsp of oil until you get that charred marks but still it should be juicy and succulent.
Meanwhile slice your veggies and get ready.
In the same pan add a tsp more oil and saute the veggies except tomato for a minute with the seasonings.(You have to retain that crunchiness of the veggies.this step is done for the veggies to be coated in chicken flavors)
All components are ready
Preheat your oven to 180 degree
Roll your pizza dough to the desired thickness and let it rest for some time until it puff up again then with fork prick it (this is to prevent raising the dough like a bun,for small one no need to do this).
Now apply cheese sauce
Some Mozzarella,veggies chicken and lots of cheese.Cover it with foil and bake it for 15 minutes until the cheese melts.Then take off the foil and bake it for another 10 minutes.
Cooking time varies according to the thickness of the base.Thin crust will cook fast.
Small one will bake within 15 minutes.(This one i rolled out 1 big and use round cookie cutter to cut it.)

Cheesy,steaky pizza bites which is loaded with cheese sauce for that extra cheesy flavor!Relish it with your cheese loving family!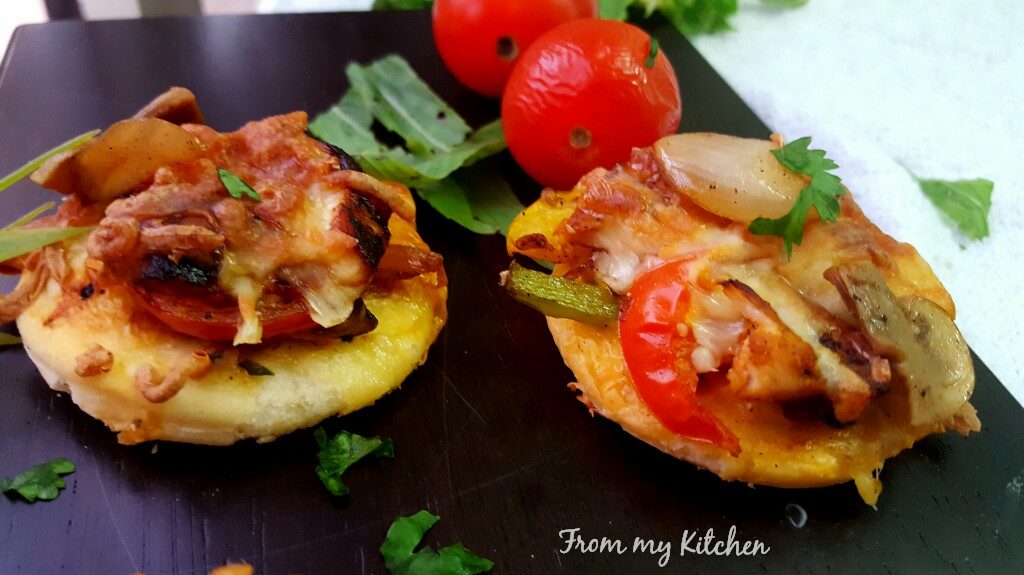 Note: If you don't want to make cheese sauce stick into regular pizza sauce.Foanr Pizza sauce and regular pizza check Here
Happy Baking!