Barazek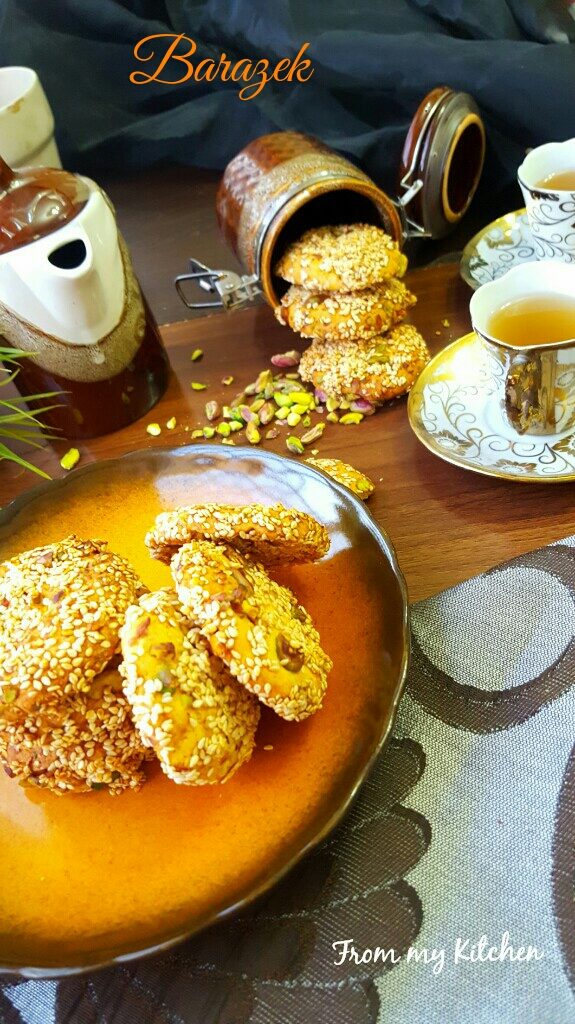 This post is for a food blogger challenge created by a group of food bloggers on fb. This is for first time i'm taking part in such a challenge,that too from a group of talented food bloggers .The challenge for this month is that they will give a particular blog and we have to select any attractive recipe of our choice from that blog and try it and feature it on our blog!Interesting right!
And the first blog for the challenge goes to an extremely talented food blogger Sawsan from
Chef in disguise
who is a dentist by profession. It was very hard to select a recipe from her blog because it's loaded with lots n lots of pleasing and mouthwatering recipes,bakes and most importantly many authentic Middle Eastern recipes.I really adore her blog,recipes,food styling and photography.With lots of browsing and searching i ended up with this crispy delicious sesame honey cookies(which i had already bookmarked). I shortlisted some other recipes too!I love baking breads and there are lots of such recipe at her space.Already i have one recipe which i tried from her blog
Hijazi Almond Coffee
.I really admire your blog and your work Sawsan. MashaAllah!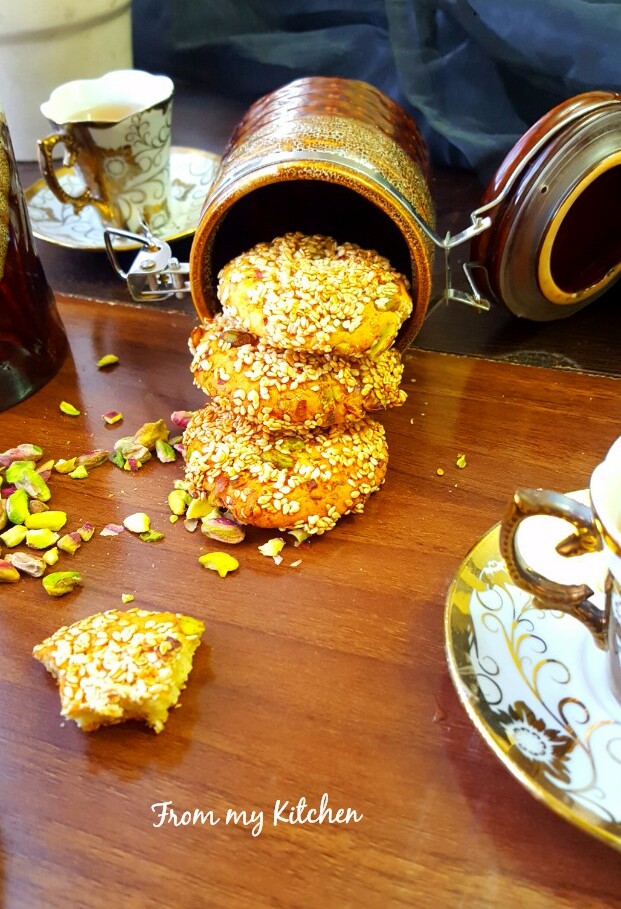 About today's recipe Barazek are cookies topped with a thick layer of sesame that is mixed with honey or simple syrup on one side while the other is dotted with pistachios. They are nutty and addictive. The cookie has rich buttery base with that sesame and pistachio bites.We enjoyed each and every bite.Do try it!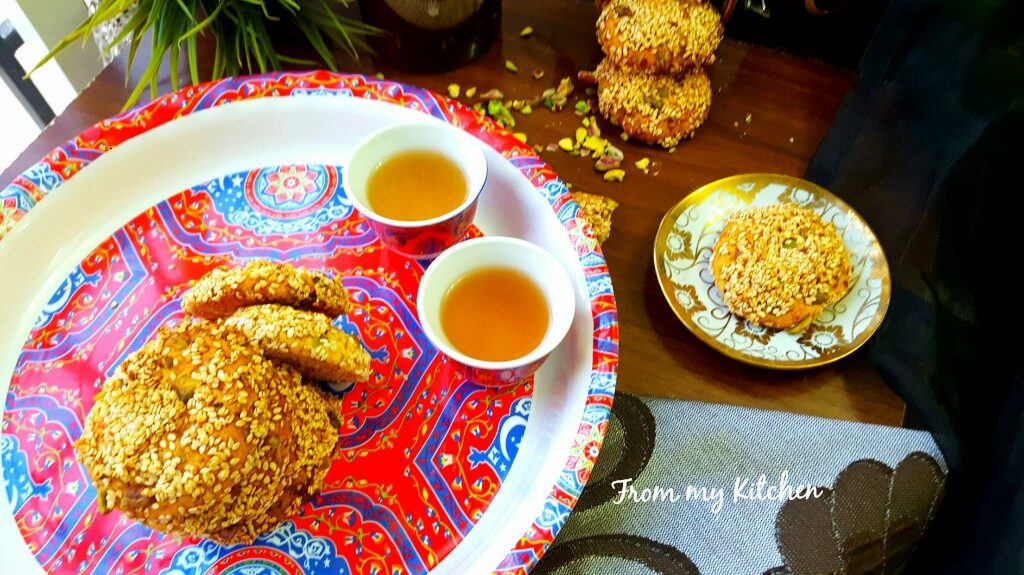 If you want your barazek cookies to be crunchy, make them thin. The thinner they are the more crisp and crunchy they turn out to be after baking. But you will need to reduce the baking time as they will bake faster when they ate thinner.
Ingredeints
1 cup (200 g) butter softened
1 and 1/4 cups powdered sugar
2 eggs
2 teaspoons vanilla
2 teaspoons vinegar
3 cups flour
1 teaspoon baking powder
pinch of salt
1 cup pistachio roughly chopped
1 cup sesame seeds
3 tablespoons honey or simple syrup (see notes)
I used half amount of these cookies
Method
Cream the butter and sugar until light in color
Add the eggs, one at a time and beat until completely incorporated
Add the vanilla and vinegar and beat
Whisk the flour with the baking powder and salt add it gradually to the mix and beat until just incorporated
Do not over mix
Cover the dough and leave it in the fridge to rest for an hour up to overnight
To roll and bake the barazek cookie
Mix the sesame and honey and place it in a plate
place the chopped pistachio in a plate
Line your baking sheet with parchment
preheat the oven to 180 C
Start by rolling pieces of the dough into walnut size balls
Press the dough ball into the pistachio, flatten it a little
Flip the cookie dough and press it into the sesame honey mix (If you like extra sesame topping, use a spoon to top the cookie with more sesame honey mix and press it into the dough to make sure it sticks)
Arrange the cookies on your baking sheet 2 cm apart
bake for 15-20 minutes until the bottoms are golden brown
Take out of the oven and allow to cool completely.
Store in an air tight container and relish!
If you find it hard to get the sesame topping to stick to the cookies, you can take a spoonful of the sesame honey topping and press it gently to the top of the cookies instead of pressing the cookies into the sesame
You can make these cookies crunchy by making them thin, the thinner they are the more crisp and crunchy they turn out to be after baking but you will need to reduce the baking time as they will bake faster when they ate thinner. I like them a little on the chewy side so I made mine a little thick
By simple syrup I mean the syrup you make by boiling 2 cups of sugar with 1 cup of water and 1 tablespoon lemon juice. You can flavor it with rosewater , cinnamon, orange peel or leave it plain
This is something different from other cookies!So do give it a try!
<!– end InLinkz script