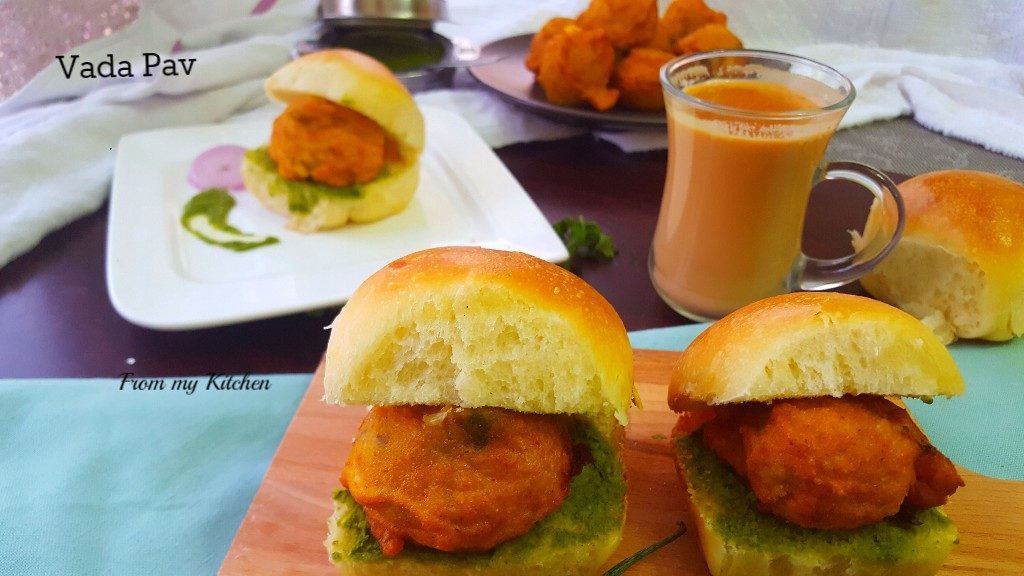 This is what i made with my pav buns!Vada pav a famous street food in Maharashtra/Mumbai.Street foods are of different types and really interesting and loved by all.In India it's all about spicy,tangy and ofcourse tasty!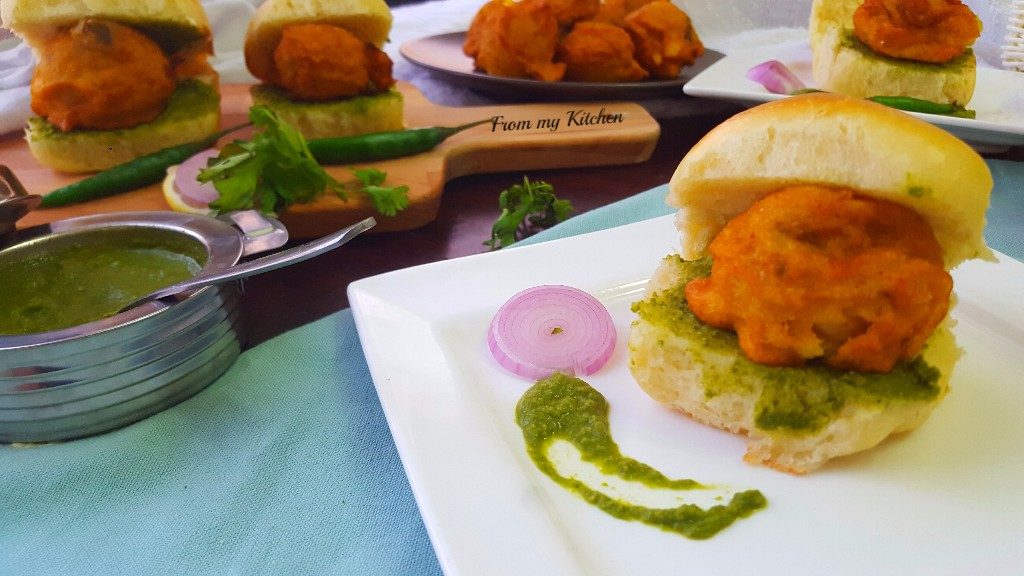 I am so happy that i made it with my own pav buns!Yay!For preparing this you will need pav buns,potato vada and mint chutney!The combination of spicy chutney ,aloo patty and bun was incredible…I loved it with some onion too.If you are someone like me who loves spicy and tangy food this is a treat.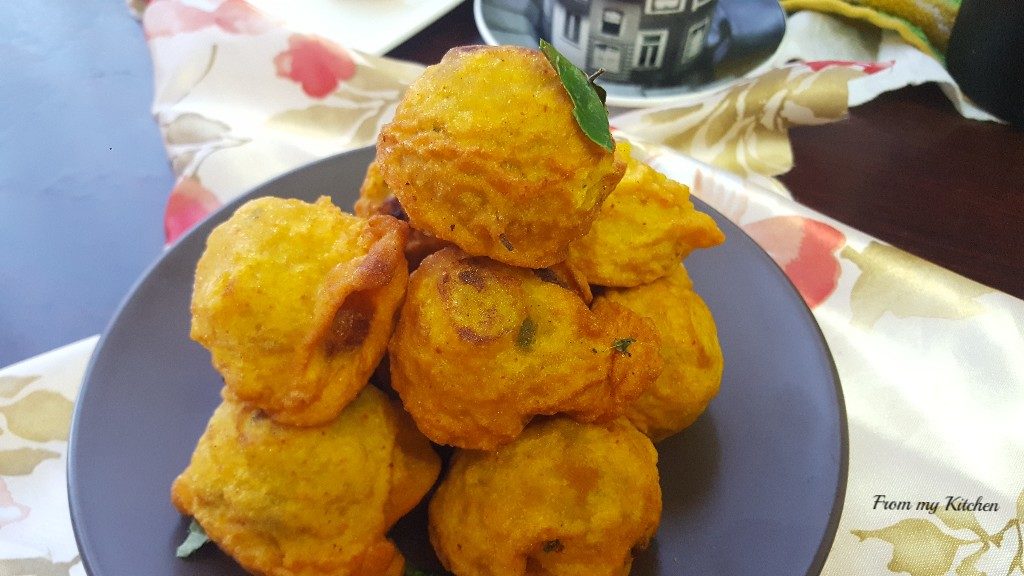 Potato Vada
This is vada for vada pav.It's a patty made with potato and some spices and then batter fry it.In our place it's called as aloo bonda.Only some spices we using in it are different but similar way we use to make it and batter fry it.Don't skip the mint chutney while making this cute little vada pav.That gives a kick to the dish.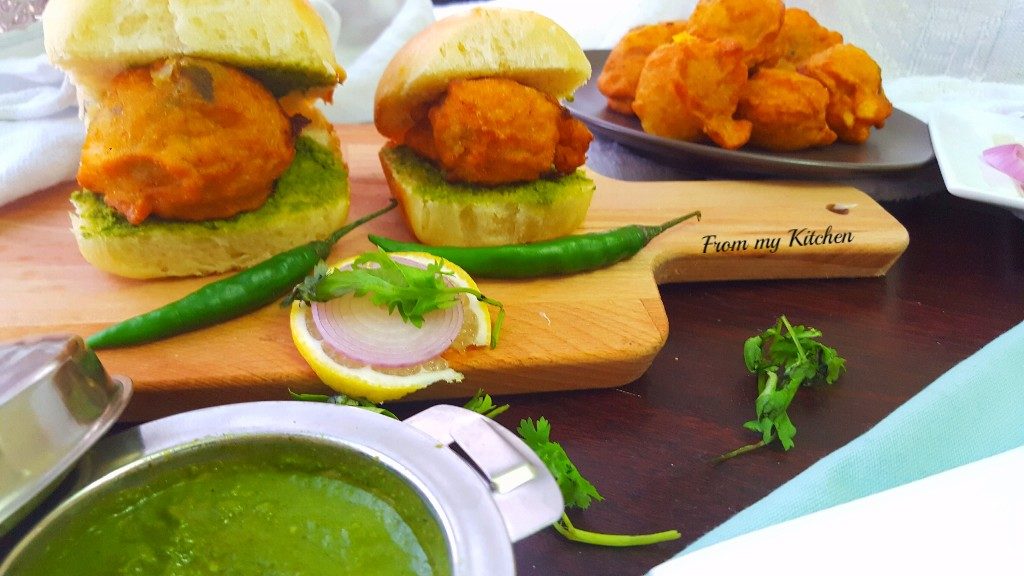 For making potato vada we need to mix up mashed potato and some spices.Shape it to a ball and then coat it in gram flour batter and deep fry it.We can use it as is with ketchup or mint chutney or else stuff in buns and use.
Ingredients
For perfect mint chutney
1/2 cup coriander leaves
1/4 cup mint leaves
2 green chilly
2 coves garlic
small piece ginger
1/2 tsp cumin seeds
Salt to taste
1 tsp lemon juice
1 tbsp coconut (only for binding)or bengal gram
Grind all without any water and make it to thick fine paste.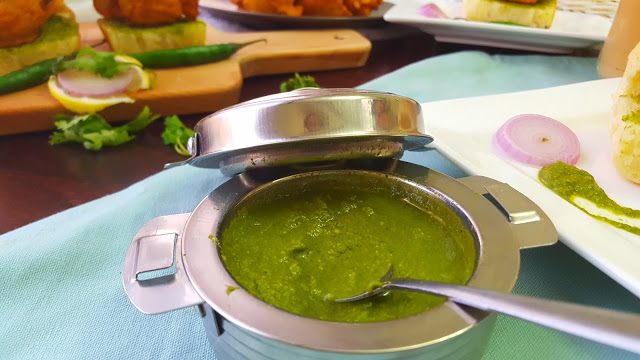 Mint Chutney
Potato vada
4 potatoes boiled and mashed
3 to 4 hot green chillies
1 inch piece ginger
4 to 6 cloves garlic
1 tsp cumin seeds
1 tspn turmeric powder
1/2 tsp garam masala
1/2 an onion(optional)
Few curry eaves
1 tspn lemon juice
lots of coriander leaves
Salt to taste
1 tbsp oil
For batter
1 cup maida
1/2 cup gram flour
1/2 tsp asafoetida
1/2 tsp chilly powder
1/2 tsp turmeric powder
1/2 tsp baking soda(opt)
Salt to taste
Water as required to make a thick pouring consistency batter.
Method
Grind together ginger garlic and green chilly.
In a pan pour oil sputter cumin seeds and curry leaves,if you are using onion add it and cook for few minutes.Then add chilly paste and cook until rawness disappears.
Then add boiled potato,turmeric,salt.garam masala and mix well add coriander leaves and lemon juice.Mix well adjust seasoning accordingly.When its cool enough to handle make equal size balls out of it.
Now prepare the batter.It shoud not be too runny .Shoud thick enough to coat the potato balls.
In a kadai pour oi to deep fry the vadas coat each ball in the prepared batter and fry in the hot oil,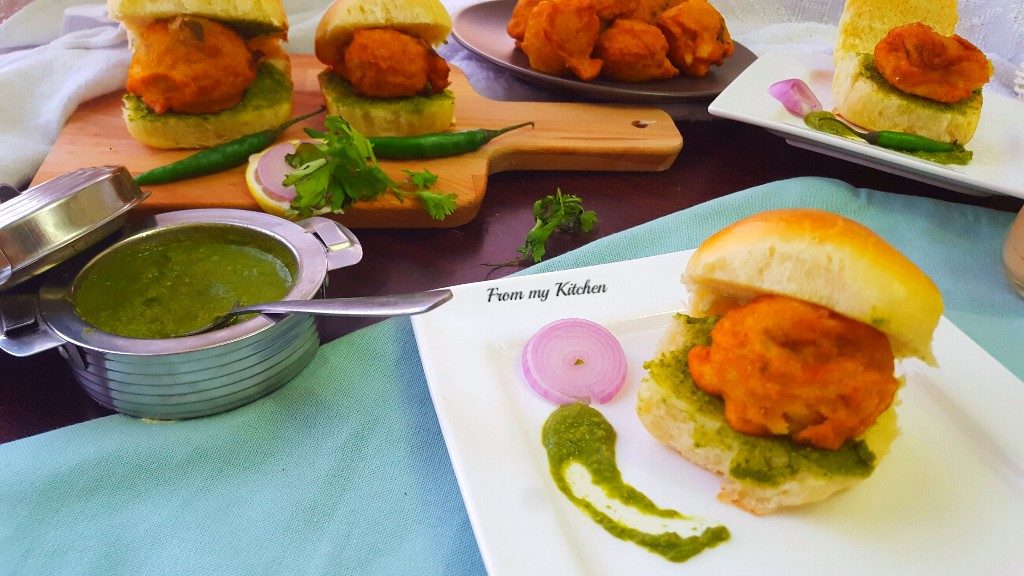 Assemble and use!Also put a slice of onion with this!If you have chutney powder use it.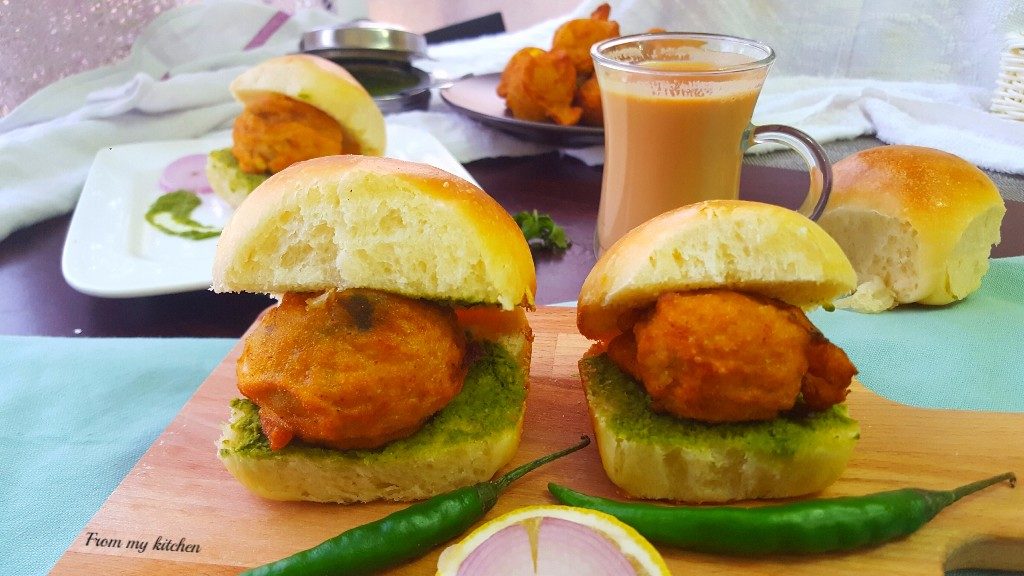 Relish with a cup of tea!
Happy Cooking!