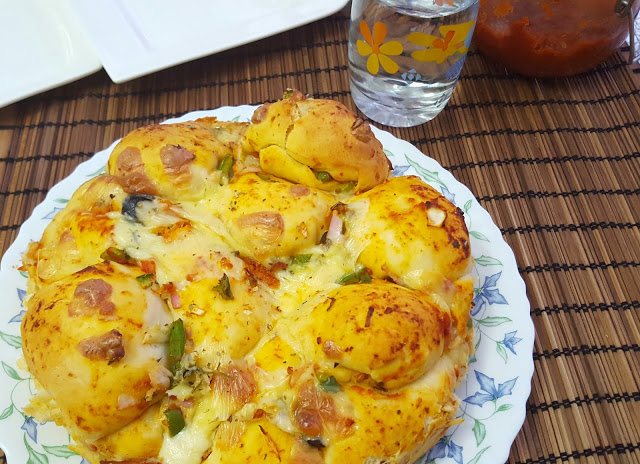 I am enjoying making this pull apart bread!To pull out that cheese oozing bread filled with chicken and veggies is an exciting & fun filled part !hehe!I already have a sweet bread (monkey bread)in my blog.This is a savoury version.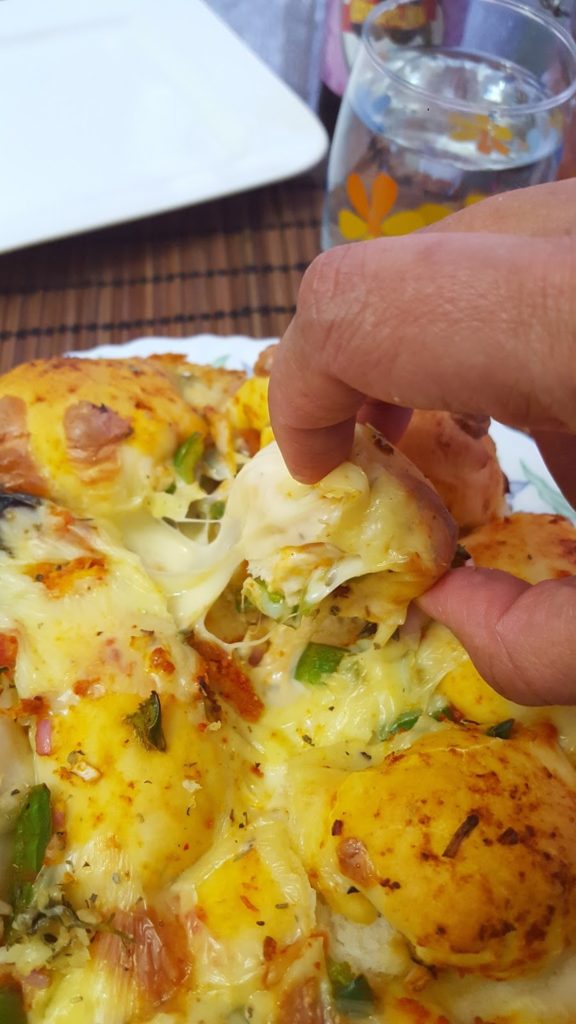 Look at that fun part !Don't think its too much cheese not that much in pizzas!but it was yum and the bun was super soft!We loved it and my kids enjoyed pulling it out.Best served when its hot straight from the oven.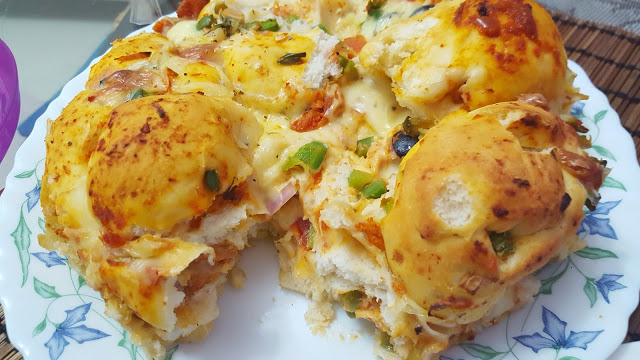 I used veggies and chicken for filling mixed with pizza sauce and some italian seasoning.Just make balls out of dough spread it out and fill it with cheese & filling.Give it shape of bun and arrange it in the prepared baking tray.Brush it with some more pizza sauce. Top some cheese and bake.

Ingredients
For bread
3 cups flour
2 tspn yeast
Salt to taste
1 tblspn sugar
1 cup milk
1/4 cup water
3 tblspn oil
For chicken
1 chicken breast fillet
1 tspn chilly powder
salt to taste
2 cloves garlic
1 tblspn oil
For filling
Small onion
1 capsicum
1 tomato
Some olives
1 clove garlic
Salt
Mozzarella cheese
Italian seasoning
To butter the pan
2 tblspns salted butter
2 cloves garlic
Some finley chopped parsley/cilantro
Pizza Sauce
6 tomatoes
1 tblspn soya sauce
1 tblspn tomato sauce
1 tblspn chilly sauce
2 green chilly
1/2 onion
Some mint leaves
1/2 capsicum
2 cloves garlic
Method
Knead dough very well. If its sticky add some flour and knead it very well until you get a smooth and soft dough.(for 8 to 10 minutes)and let it rest for 2 hours for raising.
For Sauce
Blend all ingredients under pizza sauce.In a saucepan pour some oil saute finely chopped garlic and some finely chopped onion in this then pour the blended mixture and simmer it and cook until u get a thick sauce.
Note : This will be a lot.Pour it in an air tight container and freeze it after each usage.

For Filling
Cut chicken in small pieces cook and shallow fry it and keep it aside
Chop the veggies very finely mix salt 2 or 3 tblspn pizza sauce some pepper and italian seasoning mix and keep it aside.(If you want to add chicken in this filling shred it and add.)
Mozzarella cut in to small cubes or shred and get it ready.
Melt butter put crushed garlic and finely chopped parsley and brush it on the pan
Assembling
Take out the dough knock down the air.
Divide it into equal lemon size balls.
Spread it put the filling,chicken and cheese cover it and form to a ball shape.
Arrange the ball in the prepared pan.
Repeat the process last pour the remaining butter and brush the breads with pizza sauce.Put cheese and Italian seasoning on the top.let it sit for 1/2 an hour.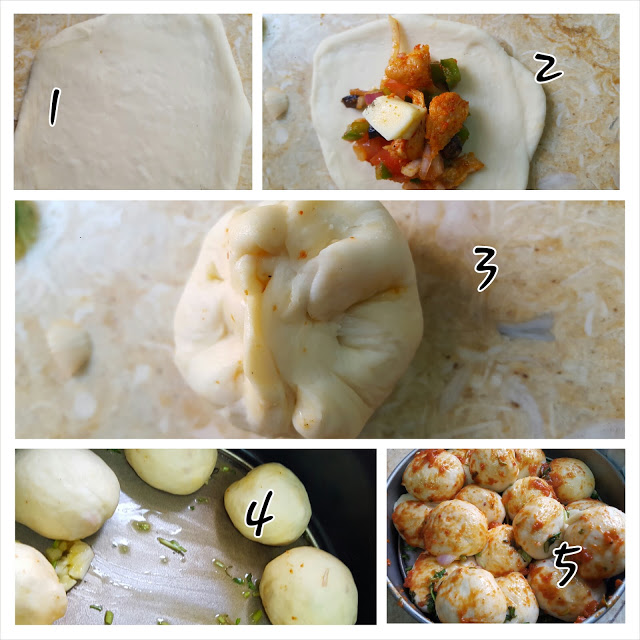 Bake it for 20 minutes in the preheated oven at 180 degree or until the cheese melt and the buns are perfectly done.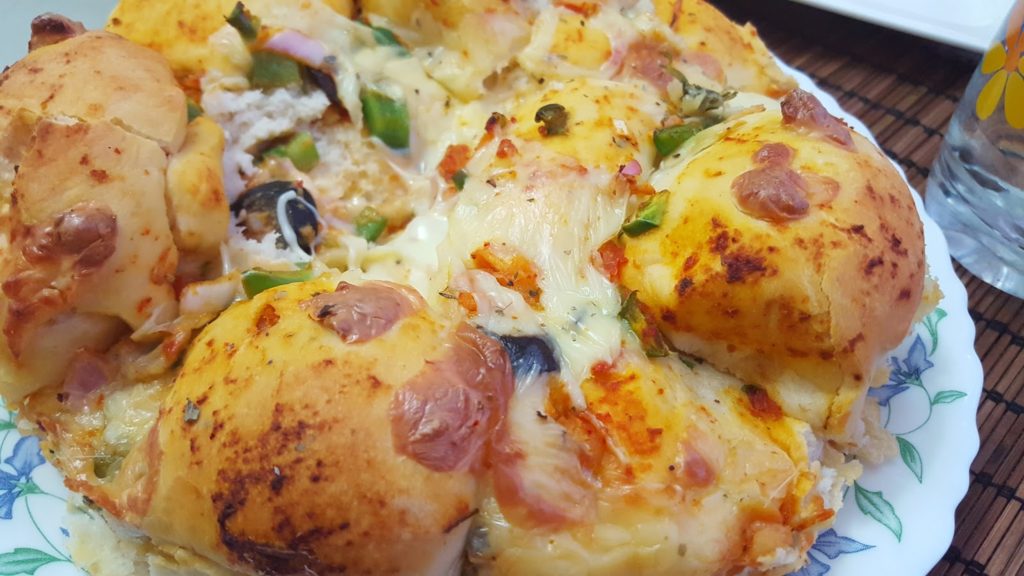 Have fun with this cheesy gooey bread loaded with full of flavours.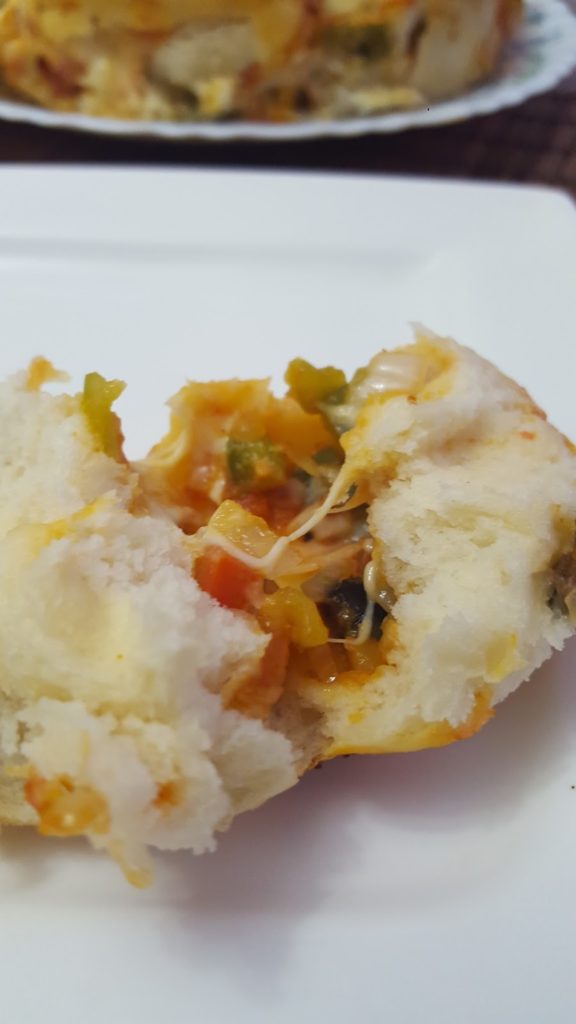 You can also make it without chicken and filling!With some pizza sauce and cheese and seasoning!
Make your own varieties and let me know how it turns out!