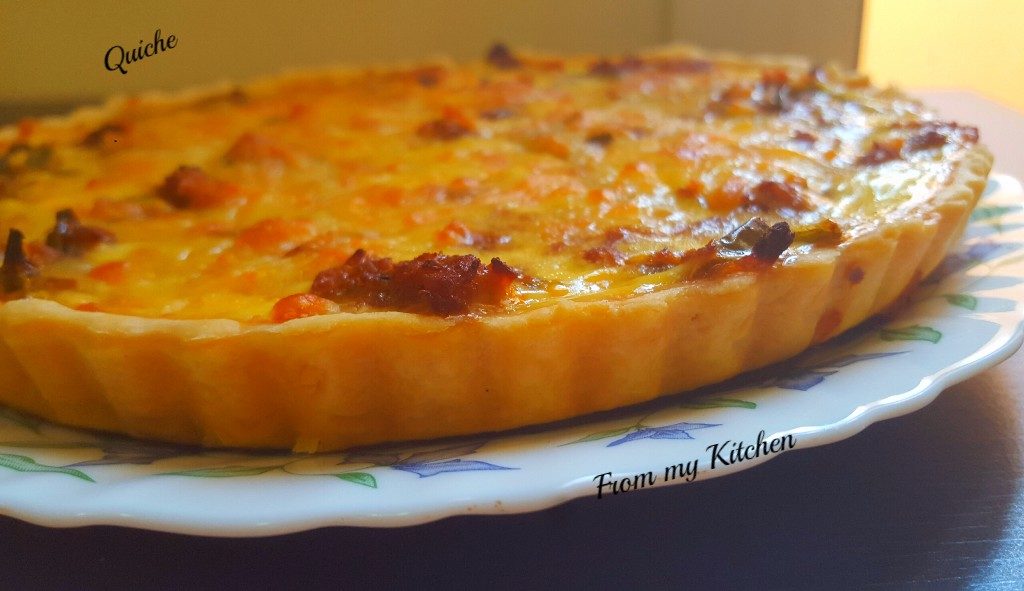 Perfect party food!As it's very rich can't make it often.But a yummy treat once in a while. Quiche is considered as a French dish.It is a savoury open crust pastry dish with a savoury filling and custard.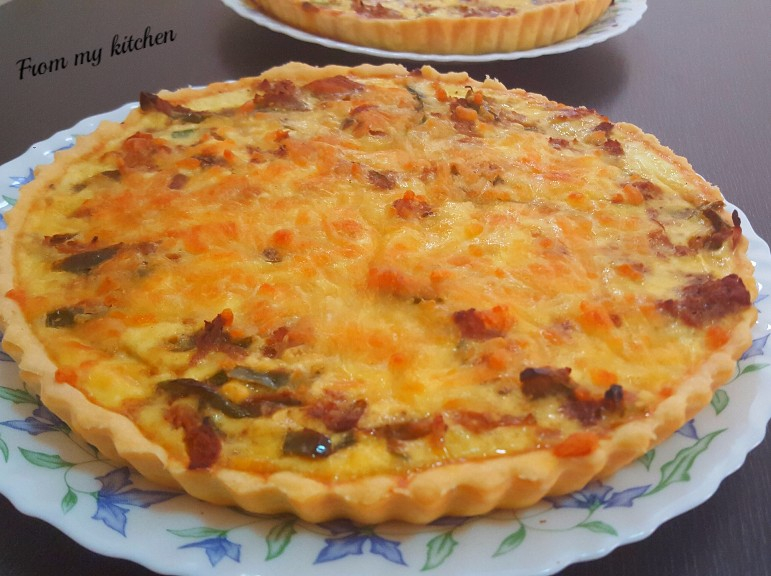 A buttery flaky tart with a delicious chicken filling and egg cheese custard.Oh come on whenever you can have it na!Also I have an idea for the guilt free eating for this recipe.You have to wait till the end to see that.hmm!To prepare this first you have to make pie crust.We need flour cold butter and ice water for making this.Then prepare filling and custard and bake it all.
Ingredients.
For tart
1 cup flour
60 grams cold butter
3 tblspn cold water
Salt to taste.
For filling
Chicken breast fillet one (boil with salt,pepper and soya sauce)
2 cloves garlic
1 medium onion
1 medium capsicum
1 tspn pepper powder
Some oregano or Italian seasoning
Parsley
2 tspn oil
For Custard
2/3 eggs
1/4 cup thick cream
1/3 cup milk
salt & pepper
2 tspn cream cheese
Some parmesan cheese (optl)
Some Mozzarella cheese for topping
Method
Combine the flour and salt.Your butter should be cold.Cut it in cubes and mix it well with the flour to get a bread crumb like texture.You can also use a food processor for the even mixing.Then slowly add the water and knead.Don't over knead just until all combined.
Roll the dough out right away and fit into the bottom of the pan, letting the sides flop over. Fit the bottom and sides, and then using back of palm fit into corners. Cut excess off the top so that dough is flush.
Place pan in the freezer for at least 20 mins, longer is fine too. Dough should not bend to the touch.
Preheat your oven to 180.
Tip :Rollout the dough on top of the parchment paper it will help u to lift the pastry dough easily and place it on the mould.
Blind baking ; Take out the pan from the freezer spread a parchment paper and put some grains or pulses over it like this.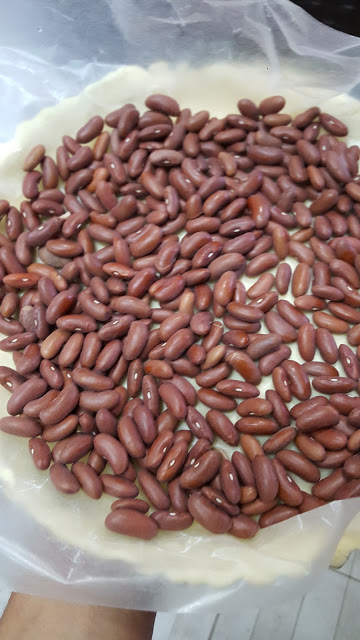 and bake it for 15 to 20 minutes.This is to prevent raising of the tart while baking.Take out the parchment paper and bake it for another 10 minutes.

Note : If you don't have a loose bottom pan,after baking the tart slowly move it to an oven safe dish which you are going to serve the quiche.So that it will be easy for you to serve. Otherwise demoulding the tart will be difficult.

For filling
In a pan pour 2 tspn oil add finely chopped garlic and saute.Add sliced onion and capsicum cook for few minutes add pepper,salt and oregano.Mix in boiled and shredded chicken add lots of parsley and off the flame.
For custard
Mix all the ingredients and give it a good whisk keep it aside.
Assembling
In the tart spread out the filling evenly and pour the egg custard evenly spread some mozzerella and put it for baking until the cheese melt and the custard are firm and brown enough.Here ready your quiche to serve.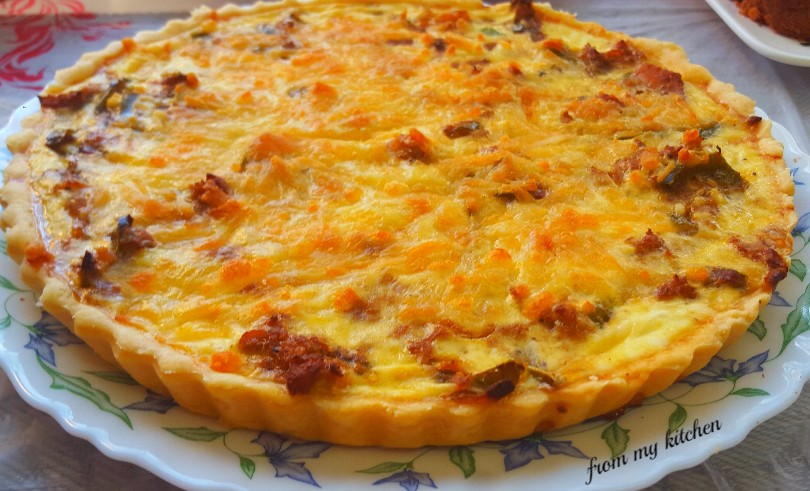 Here is the perfectly baked quiche.
Tip :If you are making it for parties prepare your pie crust and keep .And bake the whole thing with filling when require.(I doubled the volume here!)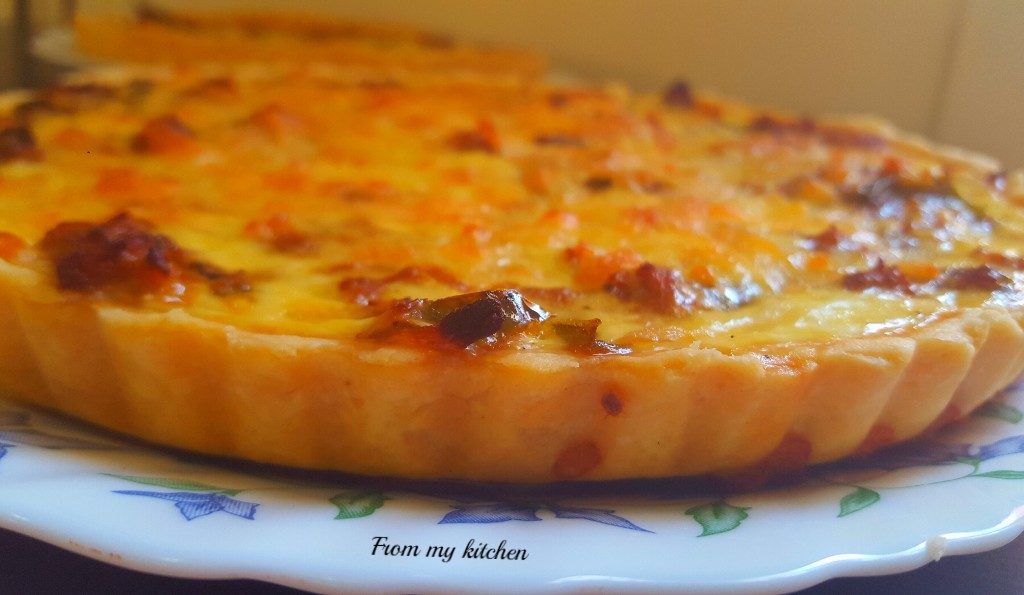 I told you about a guilt free recipe for this!It's easy and yes you can totally avoid the buttery tart and use Filo pastry for that.
No blind baking,no tart making nothing also cute little ones!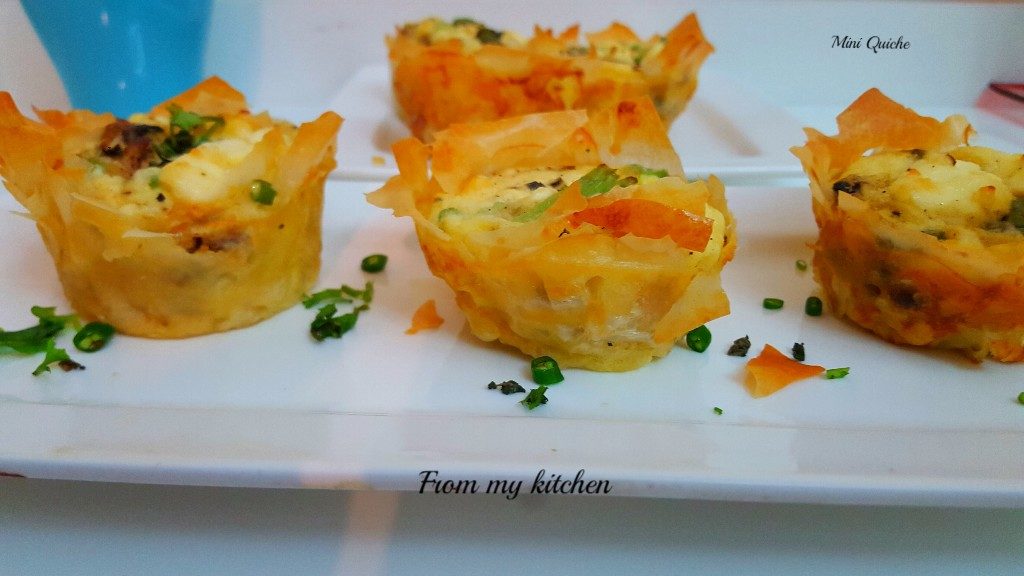 Step 1 :Spray your cupcake mould.
Step 2 :Cut the filo pastry in equal size squares.Layer 4 0r 5 sheets and place it on mould like pic1 then filling and custard and bake it for 15 minutes at 180 degree,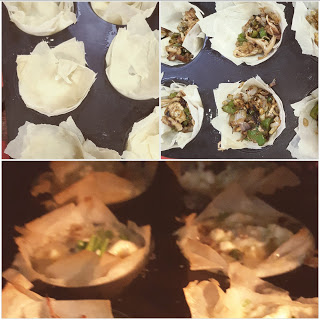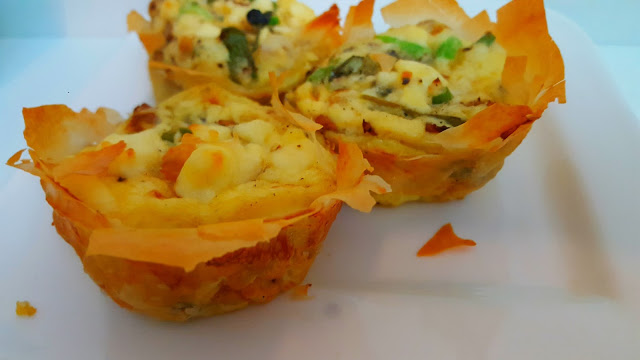 Its very delicate remove it carefully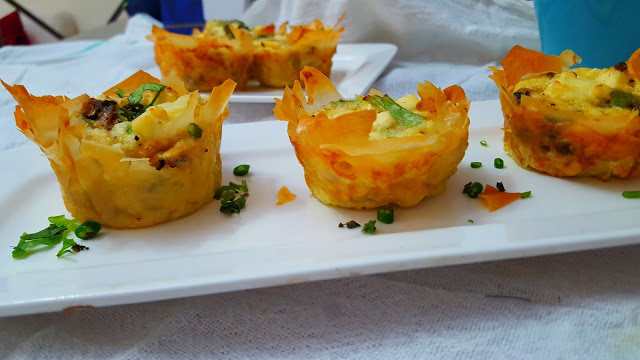 Enjoy!