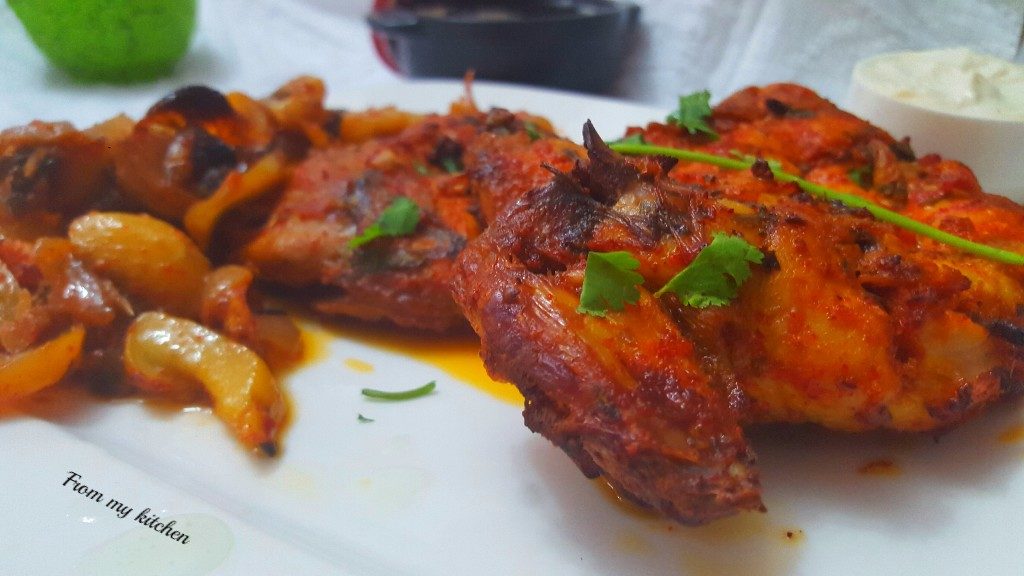 First time tried baked chicken!I always use grill function to cook my chicken in oven.But this one turns out yum.Juicy and succulent meat and crispy coating even without skin.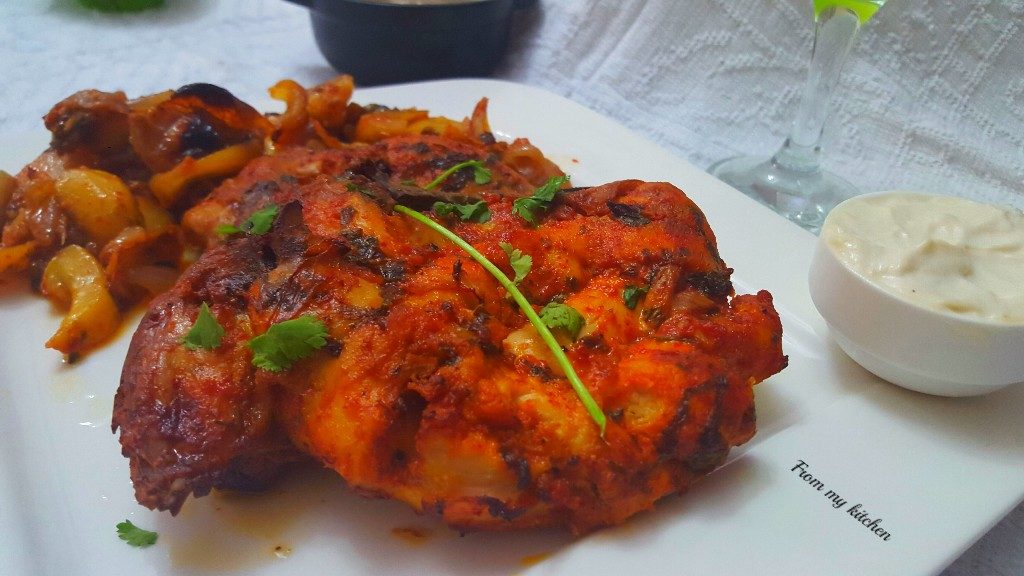 Few days back my cousin Nuzha shared her food pic of baked chicken and really nuchu that forced me to try this.Thank you for sharing and hope more to come……She has many gr8 ideas of simple baking !!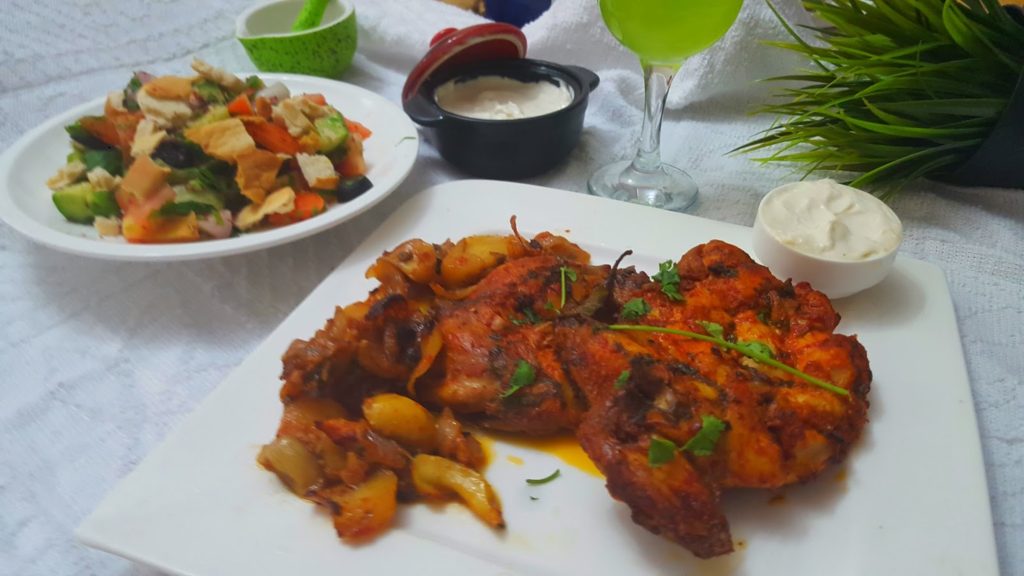 Baking and grilling is very simple just mix up all and put it in the oven that's it.Usually for this whole chicken are used,but it will be too much for us so used half.Here I used some mild spices to marinate and mixed up wit some yoghurt so that the chicken will not go dry while it's baking.It's baked almost 1 hour or until you get that desired outer outer browning!Also add the veggies of your choice.i used potato,onion and lots of garlic just added some seasoning and mix up with leftover marinade.The smell while baking was incredible.
Ingredients.
1/2 of a Chicken
1/2 lemon
2 tspn chilly powder
1 tspn garlic powder
1 tspn oregano
1 tspn pepper powder
Salt to taste
1 tblspn yoghurt
1 tspn ginger
1 or 2 tspn oil
For Veggies
1 or 2 potato
2 onions
8 to 10 cloves garlic
Oil to brush in between
Method
Make slits on the chicken and rub well with lemon, pepper and salt.Keep it aside for 1/2 an hour.
Now mix up all other ingredients and marinate the chicken in it.Check for seasoning.For the best result marinate it overnight.
Preheat your oven to 200 degree
Roughly cut the veggies(you can add whatever veg you want like carrots,capsicums that will make your dish colourful too!)Mix it with salt and pepper then put it in leftover marinade and spread it in the baking tray along with the chicken
Bake it for 1/2 an hour at 180 degree .Flip it in between also brush it with oil,this will give a crispy crust to the chicken.Now increase the temp to 200 and bake for other 1/2 an hour(flip in between and brush the oil.)The water oozing out will dry up,don't worry about that 🙂
Serve it hot with pita bread salad and any of your favorite dip.This is the recipe I accompanied with Garlic paste & Fattoush.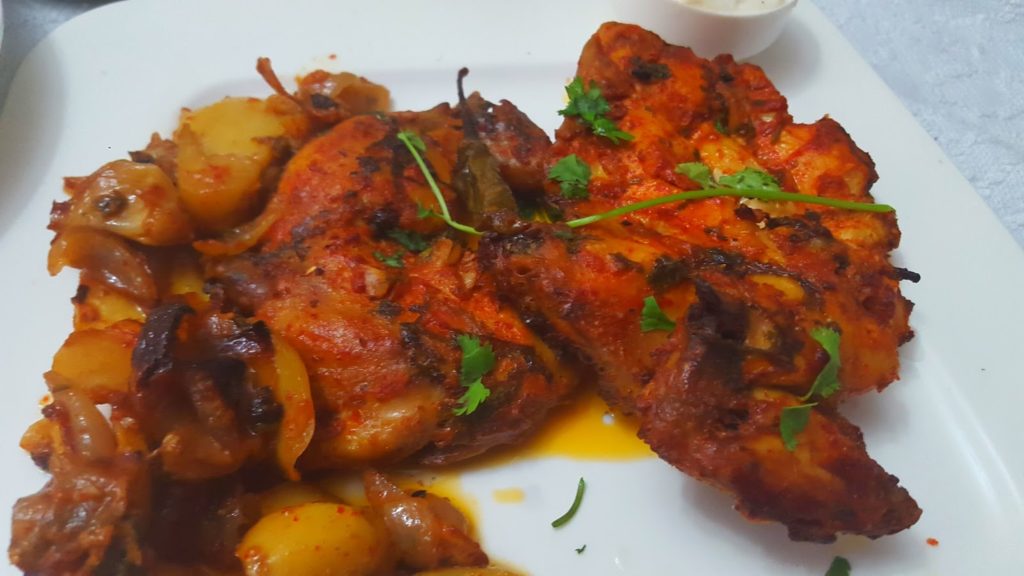 Try this it's really yumm!The veggies in it too packed with full of flavours.
Garlic give great taste to the dish.
Also you can use full chicken.You have to use spices accordingly.
Note :Don't add too much spices that will spoil the taste.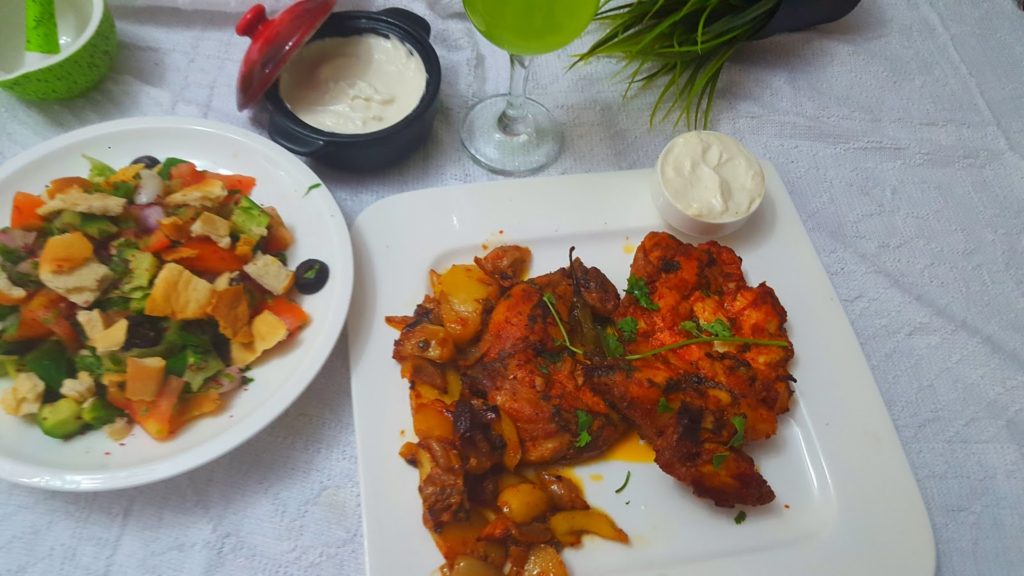 Happy Baking!
ENJOY!