Toum or Garlic paste is a perfect dip for any Arabic cuisine or with grills and bakes!I am a big fan of this white whipped garlic dip.Trust me its a fool proof recipe for garlic paste.I tried many recipes and really wish if I can reduce the usage of too much oil and yaayy!!!I got it.This comes out perfect.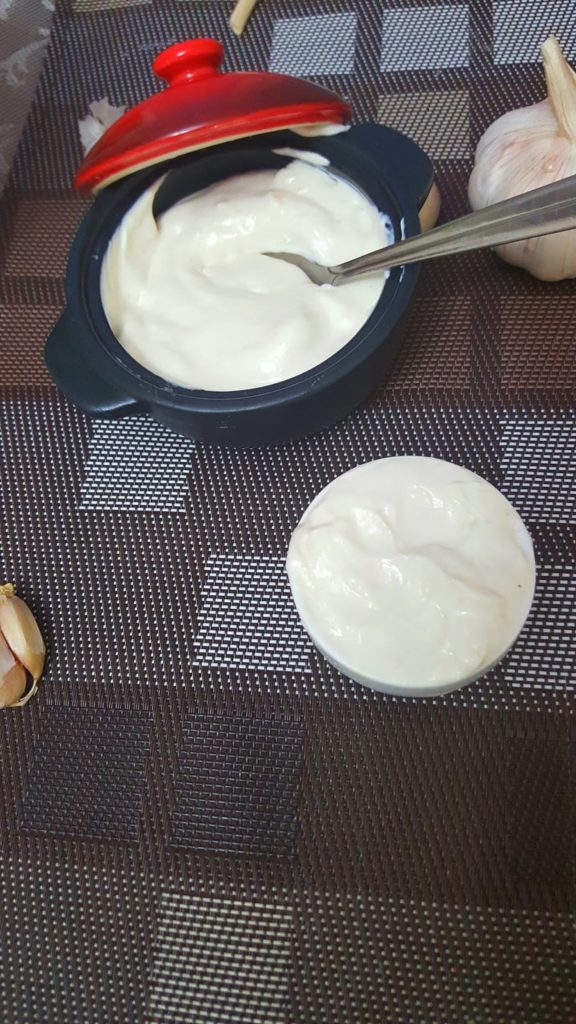 Its thick and creamy with that nice garlic flavour.For preparing this few garlic,egg whites.vinegar, salt and my secret ingredient(mashed potato)blend blend blend until the desired thickness and the dip is ready.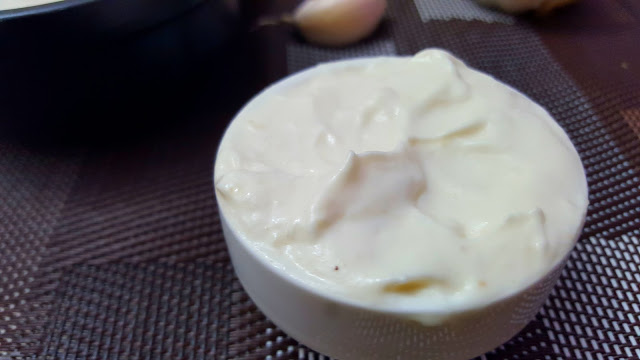 You can serve it as a dip as a spread in shawarmas and sandwiches and many more.In this recipe the usage of oil is very less compared to other recipes.Once you try this will never go back to any other recipe for Toum.
Ingredients
3 Egg whites
2 or 3 Garlic cloves
Salt
1 tspn Vinegar
1/3 cup Vegetable oil
Potato 1 small /quarter of a potato boiled
Method
First in a blender put together garlic,egg whites,salt ,vinegar and blend.Then when its mixed well start adding oil.It will start to thicken.Blend it for some time.If you are not adding potato you have to add more and more oil until you get that thick consistency.You will see the magic when you add the boiled potato in this mix.Add the potato and blend for 1 minute.The thick whipped up garlic paste is ready to serve now.
Note ;Don't use more garlic(if its small add 3 and big 2 cloves)
I used one baby potato.You will only need 1/4 or 1/2 of a potato.(for this you can also boil potato in microwave.Cut it in small pieces pour some water and cook it for 3 to 4 minutes in high watts or until potato is soft enough.You have to stir in between every 1 minute.)