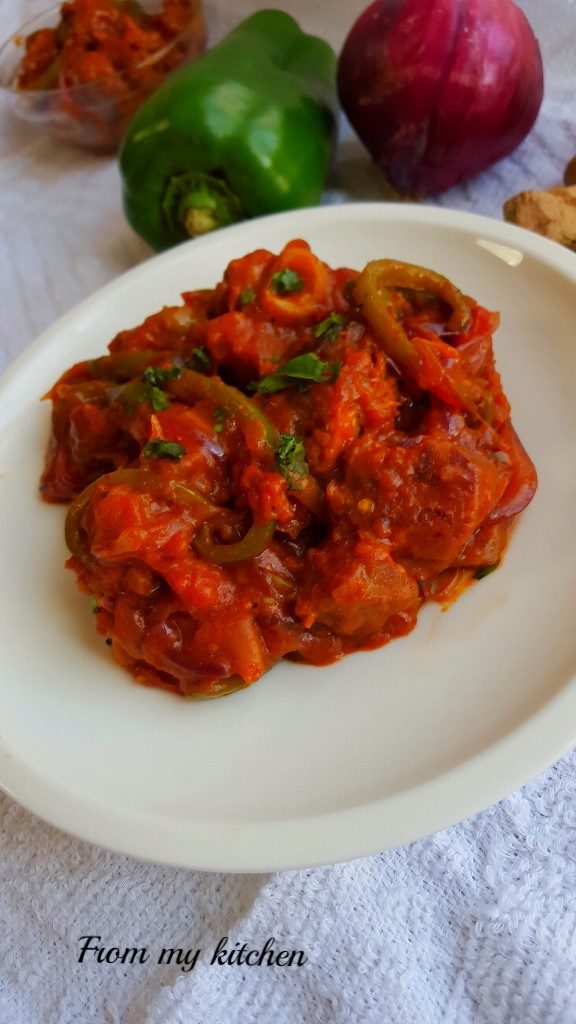 As we are trying many recipes with chicken we hardly go for mutton or beef right?
We do chicken in different cuisines like Chinese Thai,Indian and many more,.The main reason is chicken will cook easily so all prefer that and is loved by majority. Have you ever tried mutton stir fry? Try this Indo Chinese style mutton chilly stir fry.It is really good.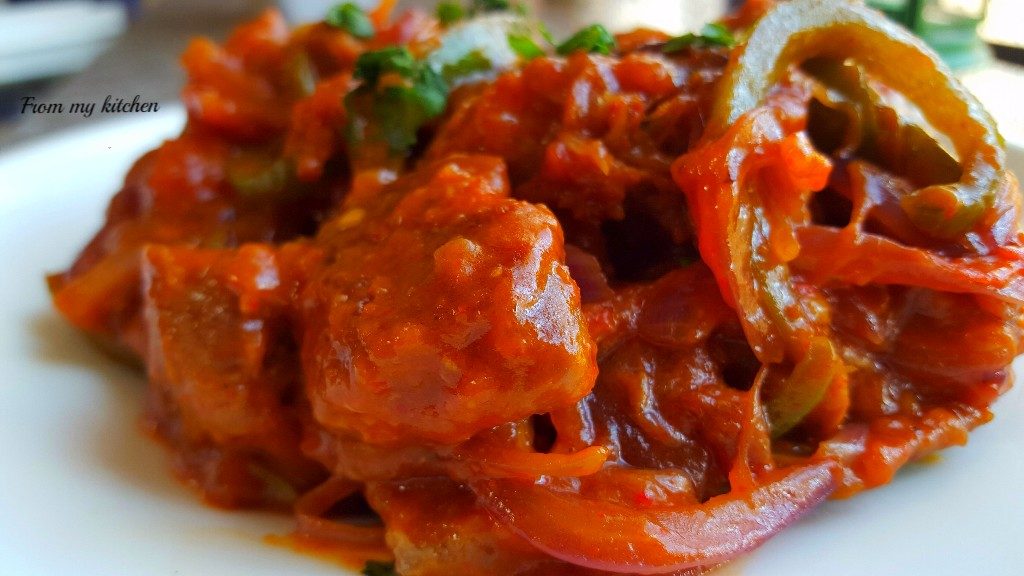 Once I have been in a party and ate something like this, I liked it very much. With that flavour in my taste bud I tried this and I was so delighted with the result. It will be a great combo with rotis,nans and puris.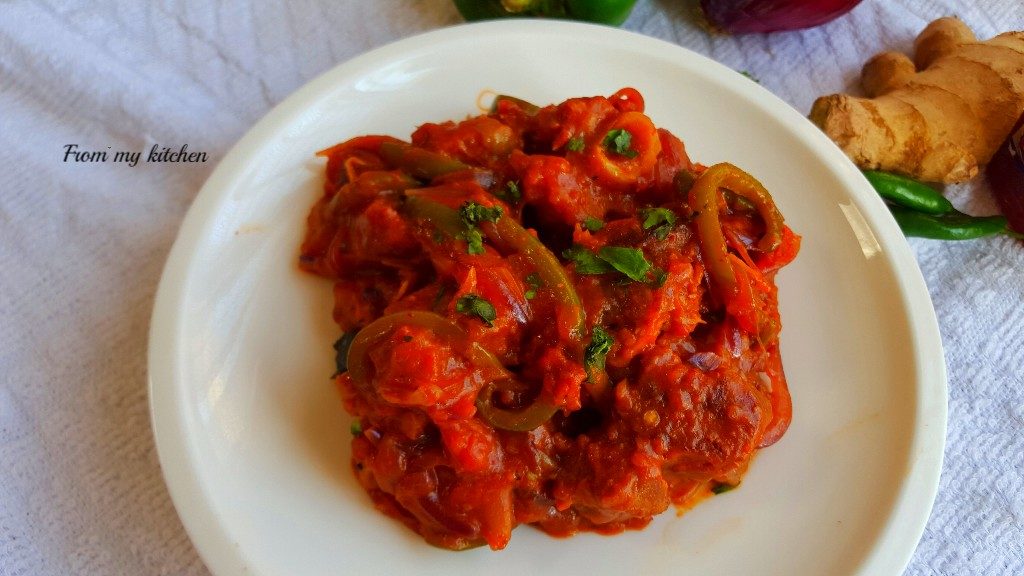 To prepare this, first you have to boil the meat with some spices,onion tomato and some cornflour with very little water.Take out the meat from the broth and fry it.Then stir fry the veggies like onion,capsicum,ginger garlic,sauces and then mix the meat and stock and reduce it until it becomes thick.Its really a tasty dish. Give it a try !!!!
Ingredients
To Boil Mutton
1/2 kg mutton
1 small onion
1 medium tomato
2 cloves garlic
Small piece ginger
2 tblspn red chilly powder(more or less as per your taste)
3 tblspn cornflour
Salt to taste
1 cup water
For stir frying
Oil to shallow fry the meat
2 medium onions
1 large capsicum
3 cloves garlic
Small piece ginger
2 or 3 green chillies
Some curry leaves
1 tblspn tomato sauce
1 tspn soya sauce
1 tspn pepper/chilly powder(totally optl)
1 tspn vinegar
Method
In a pressure cooker add cleaned mutton and add all other ingredients under the boil list.Mix well with your hands then pour 1 cup water and cook the mutton until 3/4th done.As we are adding cornflour the gravy will be little thick.This will help the masalas to coat with the meat.Cook it in low flame, as we are adding less water in this.
When you open the lid give it a good mix take out the meat (if the masalas are not well coated add some more cornflour and and mix well).
In a pan Pour some oil and shallow fry the meat.
In the same oil add curry leaves,green chilly slits,ginger julienne cut ,chopped garlic and saute in high flame,Then add sliced onion and cook for a while then add sliced capsicum cook for some time.Add sauces and mutton broth(as we are adding cornflour it will be a thick gravy so it will reduce fast )add fried mutton check for seasonings and add .Lastly add a tspn of vinegar and mix well.Garnish with some coriander leaves.Enjoy it with your favourite rotis.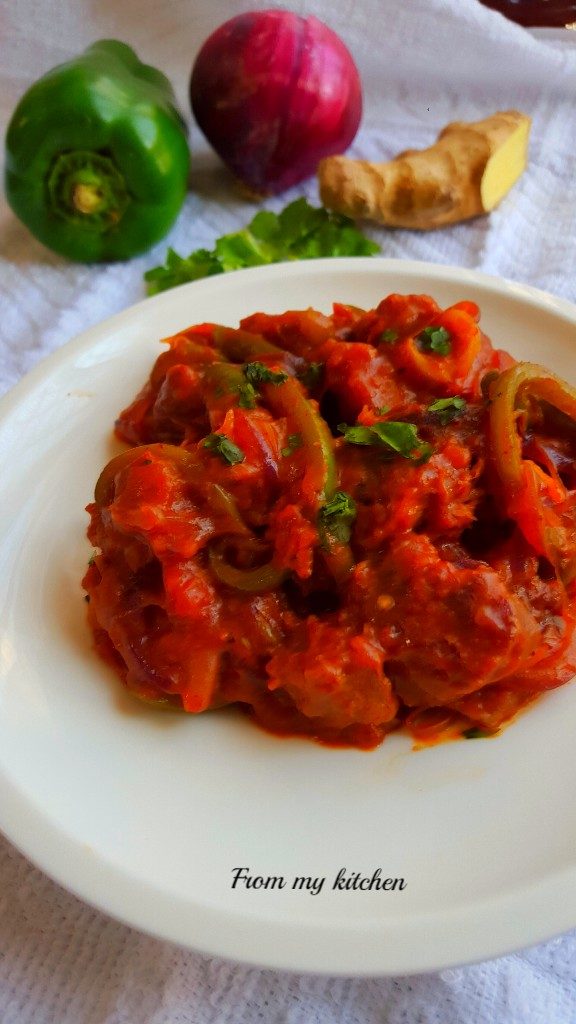 Perfect for parties with your rotis and fried rice .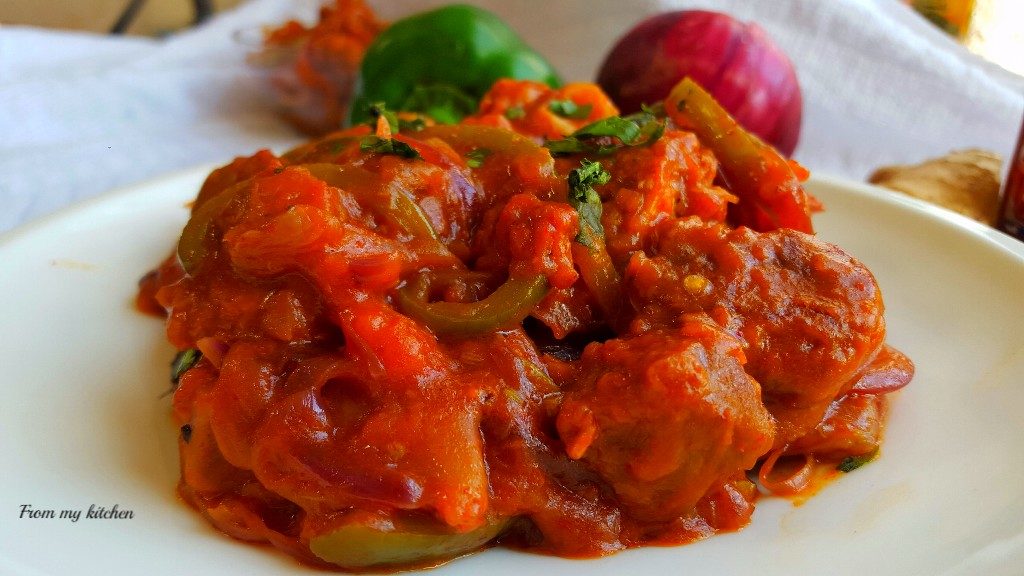 Happy Cooking!