Who doesn't love pizzas?Who doesn't make pizzas,but to get it perfect with perfect flavours is really a dream for all (I don't know about all but those who are a foodaholic like me will definitely dream hehe!)Cheesy gooey and flavours from that chicken was awesome!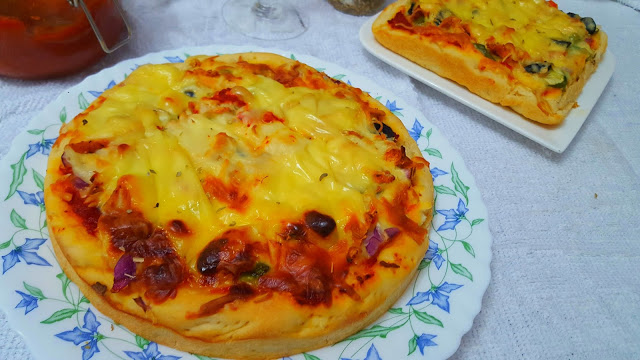 I first time tried it with cajun seasoning and it was awesome!the flavours from the chicken is really a well combo with pizzas and pastas,as it includes seasoning powders like oregano,garlic powder,thyme and all.Its very important that you have a soft and well kneaded dough for the base to get a soft pizza base.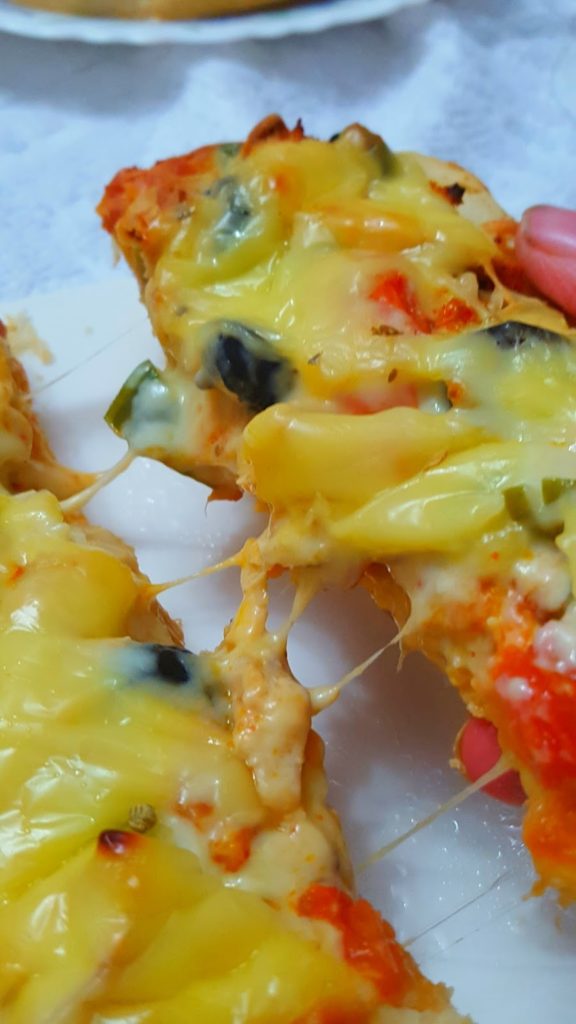 Mainly there are 3 steps in making pizzas,kneading a soft dough,making pizza sauce,making toppings.For a perfect pizza first the base should be soft and cook well,then the toppings,everyone has their own style of toppings.I love capsicums,onions,tomato and cucumber in my veggies (this is how my mom used to add,so i just love it).Then chicken and lots of cheese.Also try not to over crowd your pizza base.
Ingredients
For Cajun Seasoning
2 tspn garlic powder
1 tspn oregano
1/2 tspn thyme
2 tspn paprika/chilly powder
1 tspn pepper powder
3/4 tspn salt
1 tspn onion powder (optl)
Mix all those it store it in an air tight container.(You can use it in your salad dressings ,sandwiches and many more…)
For Marinating Chicken
2 chicken breast fillet
Small piece ginger
2 tsp lemon juice
2 tblspn oil
Pizza dough
4 cups all purpose flour
Salt to taste
1 tblspn sugar
2 tblspn yeast
1 cup warm milk
1 or 1/2 cup water
4 to 6 tblspn olive oil/oil
Extra flour for kneading and dusting
Pizza Sauce
6 tomatoes
1 tblspn soya sauce
1 tblspn tomato sauce
1 tblspn chilly sauce
2 green chilly
1/2 onion
Some mint leaves
1/2 capsicum
2 cloves garlic
For cooking sauce
2 tspn Oil
1/2 onion finely chopped
2 cloves garlic
Toppings
Mozzarella Cheese
1 small Onion
1 big capsicum
1 tomato
Some black olives
2 Cucumber
Cooked and shredded chicken
Some olive oil to spread the dough.
Method
In a bowl add 2 tspn of your cajun seasoning ,ginger,lemon juice and oil.check for salt and add if needed. Then marinate the chicken in it at least for 1 hour.Then grill it or cook it in a pan.Shred it and keep it aside.
Chop you veggies and keep it aside.
Knead pizza dough very well. If its sticky add some flour and knead it very well untill you get a smooth and soft dough.(for 8 to 10 minutes)and let it rest for 2 hours for raising.
For Sauce

Blend all ingredients under pizza sauce.In a saucepan pour some oil saute finely chopped garlic and some finely chopped onion in this then pour the blended mixture and simmer it and cook until u get a thick sauce.

Assembling
Preheat your oven to 180 degree
Roll your pizza dough to the desired thickness and let it rest for some time until it puff up again then with fork prick it (this is to prevent raising the dough like a bunn).
Now apply your pizza sauce
Some Mozzarella,veggies chicken and lots of cheese.Cover it with foil and bake it for 15 minutes until the cheese melts.Then take off the foil and bake it for another 10 minutes.
Cooking time varies according to the thickness of the base.Thin crust will cook fast.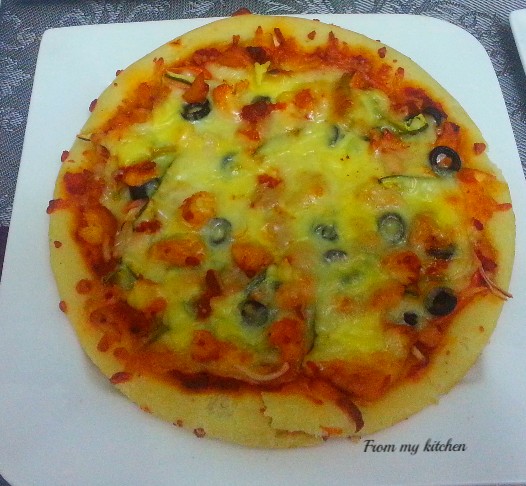 Enjoy the goodness of freshly home baked pizza and stay happy !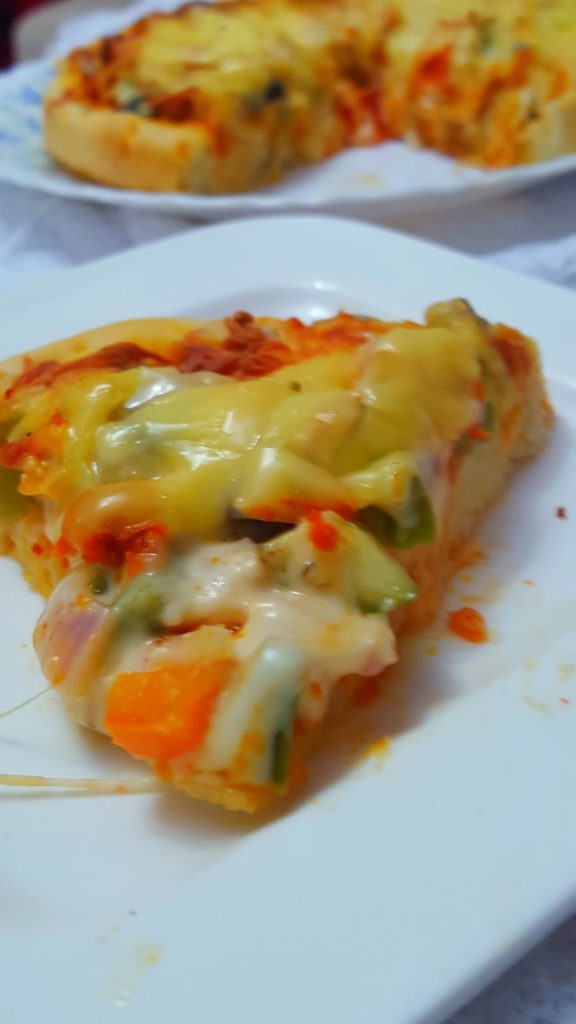 Note : If you are not using cajun seasoning,I used to marinate my chicken with some chilly powder,soya sauce,ginger,garlic and salt and then boil it and just saute it in some oil.
Also add some oregano on the top of the cheese.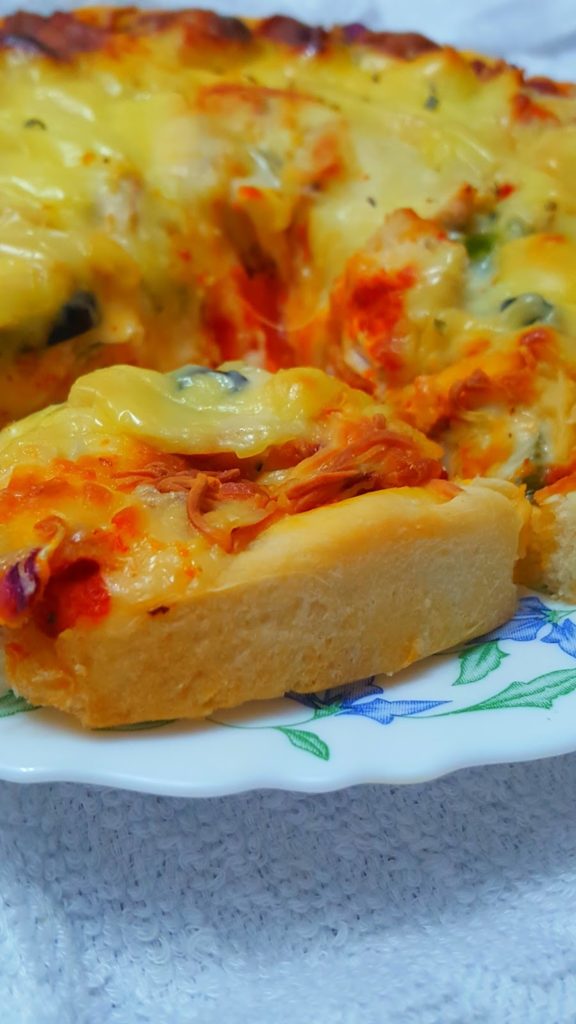 Happy baking!