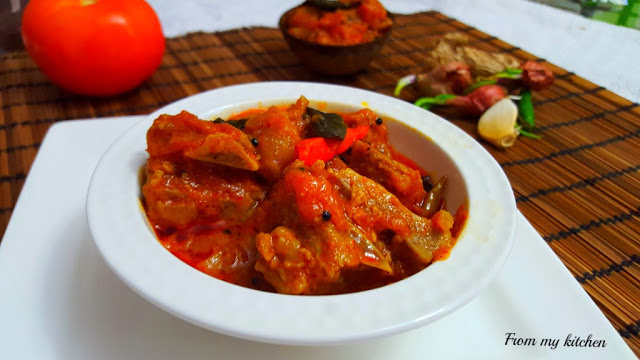 This beef roast is something different with the tadka of mustard seeds.Its a kerala style recipe with spicy flavours.For Keralites spicy roasts are always favourite.Here is such a wonderful recipe I am sharing with you all.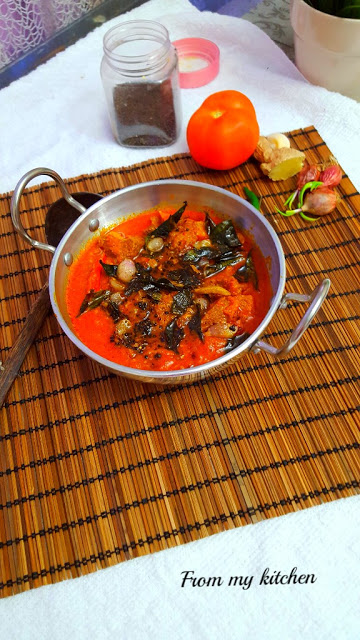 The gravy is cooked in coconut oil by roasting some spice powders like chilly powder coriander powder and turmeric powder in coconut oil and then cooking the meat in this.Lastly tadka with mustard seeds small onion curry leaves and dry red chilly.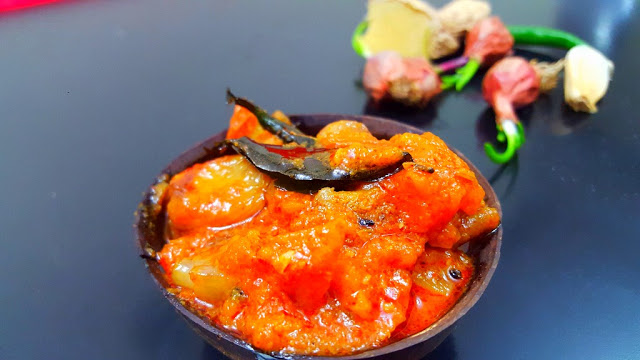 It will goes very well with malabar rotis,chappatis and puris.Do try it the last spluttering give the gravy a unique taste .
Ingredients
1/4 kg Beef
1 onion
3 medium tomatoes
2 inch piece ginger julienne cut
2 cloves garlic crushed
2 green chillies
1/2 tspn turmeric powder
1 tblspn chilly powder
1 tspn coriander powder
1 tspn garam masala
1/2 tspn fenugreek seeds
2 tblspn coconut oil
For Tadka
1 tspn coconut oil
1 tspn mustard seeds
Some curry leaves
5 to8 small onions
1 or 2 dry red chilly
Method
In a pressure cooker Pour coconut oil add green chilly slits ginger and saute.then add sliced onion and saute for a while.Mix all the powders and add it and roast for a while(ensure there should be enough oil to roast the powders).
Now add tomatoes mix and cook for sometime.Then add cleaned meat in this mix well add fenugreek seeds add enough water. Cook the beef until tender.Don't make it too watery (thin)gravy.
If there is too much water let it simmer.
Now for tadka
In a small kadai pour coconut oil splutter mustard seeds dry red chilly curry leaves.Then add sliced small onions and some garam masala on top
Pour this over the curry.The flavour of your curry will change by this spluttering.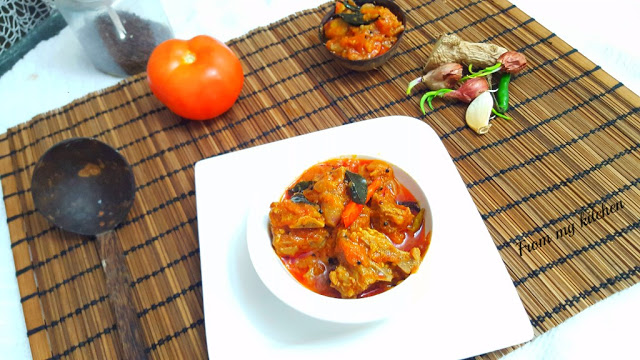 Serve it hot with your favourite rotis!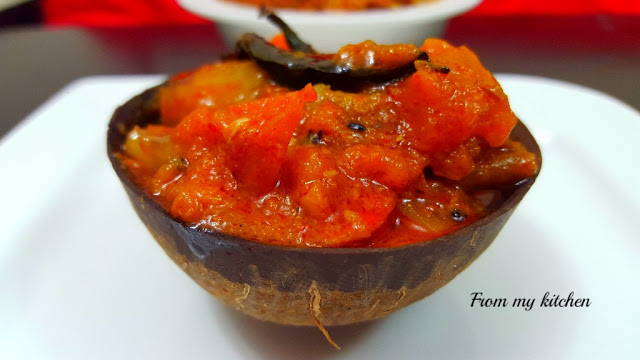 Happy Cooking!