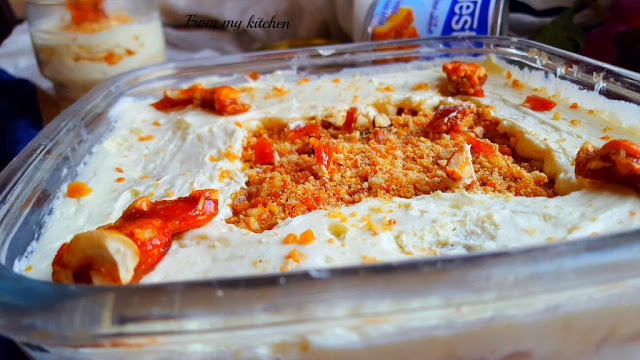 A yummilicious dessert that will make you a star for any party. A perfect party stopper dessert!
Layers of biscuits fruits caramelized nuts a yummy thick custard of cream and milkmaid.It sounds yumm right?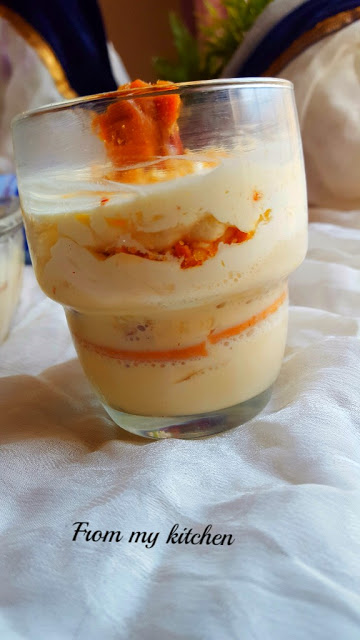 Desserts are really center of attraction for any parties.No parties without desserts!With all these creams and whipped creams its getting easier now a days to prepare this yummy treats!In every single bite you will get that crunchy nuts and fruits with the rich creamy custard and well soaked biscuits!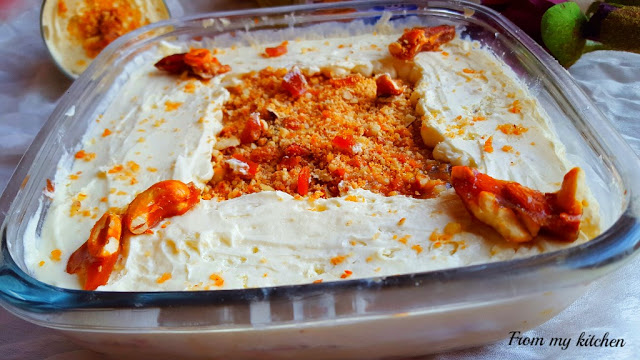 Here there are mainly 3 layers in this pudding.Ist layer biscuit then some custard,then chopped fruits and crunchy chunks of caramelized nuts again pour the custard and then the whipped cream.It was delicious.
Ingredients
1 pack Marie biscuit
1/2 cup Milk to dip the biscuits
1/2 cup apple
1 or 2 bananas
some dates
Nuts (1 used cashews and almonds)
3 to 4 tblspn sugar for caramelizing
Crush some of the biscuits
For Cream Custard
2 tins cream
1 tin condensed milk
2 sachet whip cream powder
1/2 cup milk to whip the powder
1 tspn vanilla essence
Method

First caramelize the sugar and add 1 tblspn butter in it then add nuts in it(add nuts before the sugar changing colour to dark brown so that nut will also get that nice brown colour well coated in caramel). let it cool and just crush it with the help of a mixer.Don't make it to a fine powder.
Chop the fruits and dates and keep it aside.
Blend together cream milkmaid very well add vanilla in this.
Assembling
1st layer -Dip biscuit in milk and layer it as base.
2nd layer-Pour 2 or 3 big spoons of the cream custard over the biscuit.
3rd layer-Spread out the copped fruits and caramelized nuts.
4th layer -Pour rest of the cream slowly with the help of a spoon.
5th layer-Sprinkle powdered biscuits(this well help the cream to set)let it sit in refrigerator for half an hour
6th layer -blend together whipped cream and cold milk and spread it on top.last decorate with the crushed caramelized nuts.

Note :
If you want the cream to be really set use 1 tblspn gelatine soaked in hot water and blend it along with the custard.So that it well set nicely.I like it slightly runny so i didn't use.Do it if you are making this for a party or for guest.
You can add more or less milkmaid accordingly.