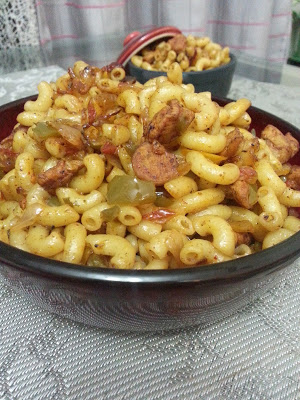 Macronis and pastas very simple n easy to make.I mean when we are lazy to work with rottis and curries,just come in mind food like this.Just boil it and mix with masalas,Ofcoz you have to make the filling,hehe!that much you have to do for sure.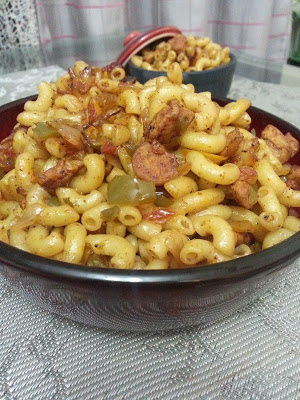 I am sure those who love spicy food will love this.It has small pieces of masaledar chickens with some vegetables and goodness of macronis,sounds yumm na.Taste too!
Ingredients
For Chicken
1/4 to 1/2 kg Chicken boneless
1 tspn chilly powder
1 tspn ginger n garlic
1/2 tspn garam masala
1 tspn lemon
Salt
For Masala
2 tblspn oil
3 onions
1 large capsicums
2 or 3 tomatoes
2 green chillies
1 tspn garlic
1tspn ginger
1 tspn pepper powder
1 tspn chilly powder
1 tspn garam masala
1 tspn dry fenugreek powder
Coriander leaves
Method
Boil macroni and keep it aside.
Cut boneless chicken into small bite size pieces and marinate chicken with ingredients under marination and boil.Reduce the water completely and pour 2 tblspn oil and shallow fry it.Take the chicken pieces and keep it aside.
In the same pan pour one more tspn oil and add finely cut onions,green chillies,ginger,garlic and saute.then add capsiums tomatoes and when its half done add all the spices(be careful with the heat as we are using all chillies and pepper,adjust according to the taste).Add fired chicken pieces and mix well lastly add fenugreek powder,coriander leaves and mix well.If you want add some tomato sauce.This masala is very arrogant and the colour is too good!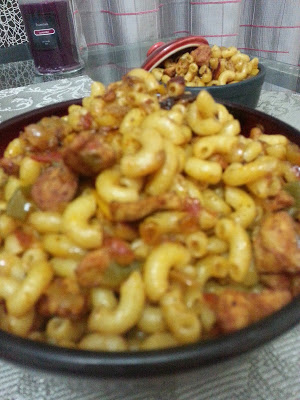 I don't have good pics for this dish.Next time I will click better photo….
You can also do same with prawns.